A Nation Stumbles: Education Doesn't Have To
October 17, 2010
"It's not hard to see why rich countries excel in education—or why educated countries prosper." (Newsweek, Aug. 23 & 30, 2010, pg 36)

During the crisis of the recession, Congress has focused on health-care, job employment, and bailing out big corporation, but it seems education has been placed on the back-agenda of the recovery process. Education is probably the key to the restoring of the economical system and the credit of the US. Colleges' endowments shrunk during the fall of the economy, so they cut programs and limit scholarship opportunities to balance out the budgets. Congress, however, does not seem to be jumping to their rescue.

As an upcoming college freshman, I believe the government and Congress should focus on providing money for college instead of bailing out big corporations and crocked organizations. Society needs to better equip the future generation. These people are the future business owners and politicians. A better education will prepare us for the state of the nation.

Learning problem solving and creativity is the fundamentals of the educational system. Science and Math are problem solving skills, logic, and trail-and-error. Fine Arts instill creativity, individuality, and culture within us. If the future generation is lacking in these basics, then the economy and the free enterprise, which our great nation is based upon, will collapse upon itself.

As a graduating high school senior, attending college has been a dream of me in my quest for a degree in Dance Therapy. But I learned quickly colleges are not cheap. Though college tuition has risen every year, annual scholarships opportunities have disappear; scholarships that were depended on. Recreational scholarships and academic scholarships are losing funding and are being cut. Financial aid is probably out of the question for a daughter whose dad holds two jobs at UAB campus and a mom who holds a position at Regions Department in Riverchase. My father always stressed the importance of money due to the fact that I have a twin and an older sister.

Though the situation seems unbeatable by a small group of citizens, we can all start small by encouraging local businesses that sponsor scholarships to possibly cut in other areas instead of education. Your opinion means much to the structure of the community.
One voice ignites a thousand.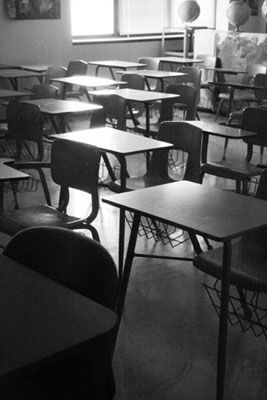 © Sean C., Princeton, IL