my military regualtions opinion
May 18, 2010
The military should change the age limit from 18yrs or older to 15 yrs or older without a diploma or GED.
Teens should be able to join the military without a GED or a high school diploma because most teens drop out of high school, and they don't want to wait until they are 18yrs old to join the military. Also teens have to take a time-consuming and difficult test to get a GED if you don't have a high school diploma. Now the military might say that teens are too young to join because they are not fit or smart enough to join the military with its standards. On the contrary, most students are ready for the rough tasks ahead of time and students do a lot to get ready to be a soldier. If teens are in school and are doing ROTC, then they have a good idea of what asked from them. Most teens want to join the military to get their life back on track. My big brother was in a life of problems. He dropped out of high school and couldn't find a job. He was only 16yrs old. For the next two years he had to force his way back into his father's life. He failed to, in an instant with just trying to apologize and talk. My big brother kept complaining about not being able to join the military until he was 18yrs old and have a GED. He just wanted to get his life back. Teens don't want to go back to school or wait three or four years to take a test to join the military. Teens just want to join fast and get their life back in the good path again.
Parents don't want to have to go through the trouble of dealing with their child. When teens drop out all they do is laze around barley looking for a job. Most parents say that they don't mind watching over their child for the years to come, most parents really, in reality, don't want to watch them forever. However, parents also don't want to wait for their child to mess up again in life with three to four years they have to wait. A teen named Donte' was a student at high school, but he was neither motivated nor excited about school. Later, he dropped out of high school and he had no other choice but for his mother to send him to a military. Donte changed and his mom didn't have to go through the trouble of watching over him. Like Donte's mother, many parents would like to get their trouble off their hands. Some parents have to deal with this because of the military restrictions of age and education. Donte's mother was just fortunate the military would take her son. If age and test regulations were removed and /or decreased parents wouldn't have to worry about their child's or children's future.
With soldiers to train and strive to be stronger, instructors can train minor soldiers for months at a time and bring home soldiers, who have been gone for years that need to see their family and take a break. We can do that for them if we reduce the regulations in the military. Now most soldiers say that they don't want rookies to take their place, or more experience soldiers don't want to leave their position, even if their miss their family and friends. Sergeant Campbell is one of the soldiers who didn't want a rookie taking his place. He was afraid that the rookies would cause problems because younger soldiers wouldn't have enough experience to do the job. However, Sergeant Campbell had said that he missed his family and friends, and he wouldn't mind risking minor problems. He knows that other soldiers can handle it, and he would like to relax knowing young soldiers are getting the real experience that he has given the chance for them to get tested on. Soldiers might think this a lot too, but they know they want to see their family really bad and are dying to relax with friends. Reducing regulations can help our country by adding more active and young soldiers and bring home missed and tired soldiers who are dying to come home.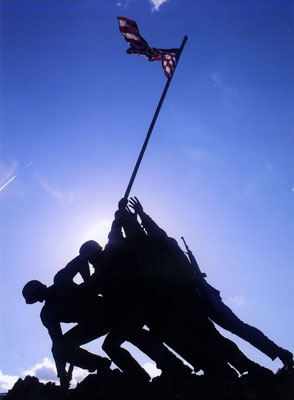 © James M., Glendale, AZ