Cinco de America
May 19, 2010
On May 3, 2010, Cinco de Mayo, Mexican-Americans all throughout the country were celebrating and showing their pride for their Mexican heritage. Live Oak High School in Santa Clara Valley of Northern California, a school with a large Hispanic population, fought controversy when they asked five students, Daniel Galli, Austin Carvalho, Matt Dariano, Dominic Maciel, and Clayton Howard, to either turn their shirts inside out or be suspended on this day. The most disturbing aspect of this story is that their shirts were not inappropriate or sexual or anything of that manner. No, these boys were simply wearing American flag t-shirts in school. However, these boys were not necessarily victims either. According to Fox News, Galli admitted that the administration had previously warned them against wearing American flag t-shirts on this day.


According to its website, Live Oak High School is a 1,300 student institution, and Fox News reported that more than 100 students were wearing the colors of the Mexican flag, some even painting their faces with red, white and green paint. These students were allowed to keep their Mexican pride shirts as well as the face paint, yet these five students were asked to change their shirts because they school administrators believed they might spark controversy and fighting. One student from Roslyn High School after being told of the events said "It was stupid of the school to send these students home because they live in America and should be allowed to express whatever culture they want even if it is Cinco de Mayo".

Unfortunately, the entire school disregarded this, and warning or not, students showed up in Mexican flag t-shirts as well as American flag t-shirts. This story never would've gone national, however, if the students and their parents didn't threaten to sue the school for what they believe is a violation of these five students First Amendment rights. Another student from Roslyn High School commented "No, I don't think this is a violation of these students' rights because they're under the jurisdiction of the school. These parents are pretending their children didn't do anything when they clearly did this on purpose to mock the ethnic celebration going on. It was rude, especially with such a large Hispanic population and the boys 100% deserved this".


This story is complex and each side has a point but also had a downside. The school has jurisdiction, yet the students have rights. The students were told beforehand not to do this, yet the school had no evidence of history of fights regarding American flag t-shirts. One important question for thought is: would you be offended if a student came into a school wearing a shirt with the Mexican flag on it on the Fourth of July? Mr. Vogt of Roslyn High School answered this question and said, "I would be offended, I wouldn't send them out but I would question it. It may bother me, but they do still have the right to express themselves".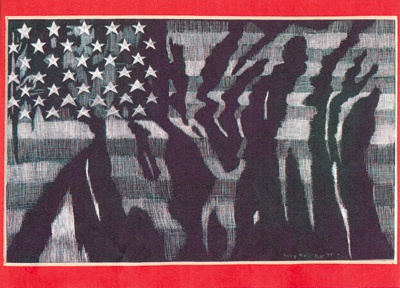 © Haley M., Ellinwood, KS