Why Obama's Health Care Plan will fail
April 11, 2010
Countless voices call the Obama health plan an act of socialism. Maybe that's why several Americans voiced out against this plan, in their attempt to keep what is left of the nation's democracy. The goal of the health care bill, which was passed on March 23rd 2010, aimed to fix the problems that affect the health care system in America. Through this plan, every person in America would have healthcare coverage. So why is it so objectionable?
For many Americans, the implementation of the government's role in health care was unnecessary and unneeded. Now, America will be set to join the other countries, such as Canada and other European nations, who have failed to do what we are trying to do: providing quality health coverage for all. The general frustration of a government-run healthcare system will be applied, and most Americans will be worse off than before.
This expansion of coverage to 32 million more Americans won't be implemented until 2014. One will not know how effective these reforms play out for at least a few decades. As Obama said, "It'll take four years to implement fully many of these reforms because we need to implement them responsibly." The problem won't be fixed immediately, so many altercations and changes may be made.
Over the next decade, the plan would cost an estimated $350 billion on funding for low and middle class income groups. The low-income earners may still strain their budget even after their insurance is provided. On the contrary to what people may think, there is no decree indicating that this coverage will be free and painless for them.
For small business employers, the reparations may be a little more brutal. After 2014, small business owners are only allowed to have two years of tax credits to help them purchase coverage for their employees. And for the employers who have over 50 employees, they would have to pay a penalty or provide benefits for them.
What drives people farther from this plan is the quality offered as well. With this plan at hand, the elimination of hospitals and doctors may be implemented in order to fit the budget. One would start to expect very long lines at hospitals as well as weaker quality from doctors and other medical practitioners. One is to be sure that there will be a lack of sophisticated medical equipment and a rise of taxes for many of the wealthier people. With this legislation, seniors who have Medicare Advantage plans with benefits such as eye care and hearing aids will have to get rid of these benefits as well as they come at an extra cost. The cuts being produced are cuts of more than $150 billion, so one should not expect to get first-class benefits. As a result, fewer choices will be available for the American people.
In any case, the 2400 page legislation had me thinking: Does the government expect us to know exactly what it proposed? The bill seems so exhaustive, that one should not expect that all Americans would know what is behind every clause. I can even argue that some of the backers of the plan don't know exactly who this plan will affect. With the amount of controversy that surrounds this plan, the question has to be asked: Is this necessary? In the state that the country is in, providing low-budget health care at the expense of tax payers shouldn't be obligatory, as this situation stirs up more controversy than excitement. However, Congress refuses to listen. The only positive role Congress can play in the reform for health-care is to play no role and restore democracy back in the health care industry.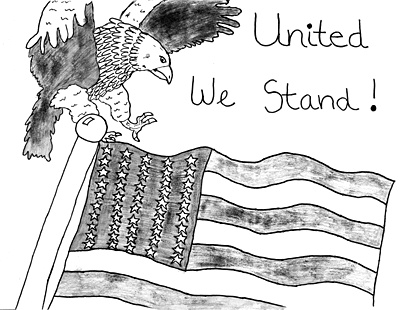 © Danielle Bode, New Ulm, MN