Wake Up America!
March 13, 2010
Global warming and gas prices
As if that's all that matters
As we're fighting to lower taxes
There's a child fighting for life
The life woman chose to take
Because she was told he was nothing but a fetus

Wake up, America!
Why can't we see the danger on the horizon?
Terrorists attacks
Communist control
Wake up, America!
We won't last forever
If we don't take a stand

Higher taxes and cheaper housing
Is that really all that matters?
While we're fighting for domestic partnership
We're too blind to see
We're being overrun by aliens

A stand for what's true
A stand for what's right
We get chewed out for cutting down a Christmas tree
While we'll kill unborn babies by the dozen
Legalizing same sex marriage
It used to be appalling
Now it's applauded

What happened to "In God we trust"?
What happened to our "One nation under God"?
Now we spit in God's face
Saying we don't need Him

Wake UP, America!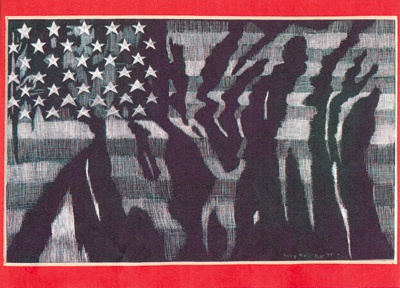 © Haley M., Ellinwood, KS