what do we really care about?
December 28, 2009
Your parents wont let you listen to your ipod. Horrible, right?
Kids around the world would love to not only have an ipod but even parents. Or maybe even the chance to grow up and be a normal kid. There's 12 year old kids in somalia doing stuff our most hardened criminals don't. I have a cousin who got a life sentence when he was 14.
You sit around all day and text and watch tv, one or the other. There is a kid across the world who just lost both his arms and one leg and how he/she would be love to be able to run or even walk again or scrath their nose. Things we are entirely capable of yet take for granted our ability to.
We look in the mirror and think how great we look. Would you feel the same way if you looked in the mirror and you saw bones protruding from your body that was slowly eating itself?
We fear that we wont have something good to wear to tomorrow when that same night some little girl cried herself to sleep because she doesn't know if she is going to live through the night.
Our hearts broken because the person we thought we loved broke up with us. We just can't go on. How lucky we are though to some that we may still have the opportunity to see them or maybe even talk to them. There is some 7 year old in rwanda during the 1994 genocide that his last image of his parents was them being chopped up with a machete. he escaped the same fate and hid in a church in a pile of dead bodies that he pretended to be. He layed there for a week. How horrible it must have been to lay there, among a heap of dead bodies praying you don't join them all while the image of your dying parents still engraved in your mind and yet he still had a will to live. I wish we could all say the same.
Problems to different people do hold a different significance but we do not always have it so bad. There is always someone who has it worse. The glass never has to be half empty.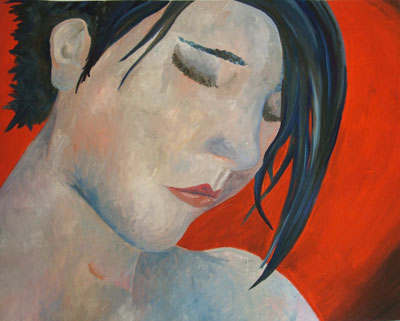 © Lindsay S., Billings, MT