Why Extend School Days?
December 23, 2009
After a long and hard day at school, I plopped on the couch and reached for the tempting remote that yelled and pleaded to be turned on. So I grabbed the remote and turned on the television. My eyes grazed against the headlines that was displayed on the television screen, "Obama fights for longer school days." This got me thinking, just why does the government crave for longer school days.

Maybe because President Obama thinks that American students have not reached their full potential due to the lack of time they spend in school, or maybe because other countries have stricter schools and curriculums.

Despite all of these being good arguments on why America demands longer school hours, I believe that it is just because the government needs more money. Yeah, you might be wondering how the government makes money by extending school hours by just a few more minutes.

First off, as you know public schools are ran solely by taxes and sometimes even donations. So if the school hours were to be extended then the school would obviously have to spend far more for the students. And where do you suppose that this money would come from? Exactly, the money for our school would come from our parents or guardians. Consequently, the government would increase the amount of tax we United States residents pay.

However, only a fraction of the amount of extra money you paid in your taxes would go to the school, but where would the other part of it go? You guessed it, the government. A fraction of your hard earned money is being taxed to pay for extending school hours and the other half is partying with the government.

Still staring at the headlines, I thought to myself, is this why Obama thrives for longer school days?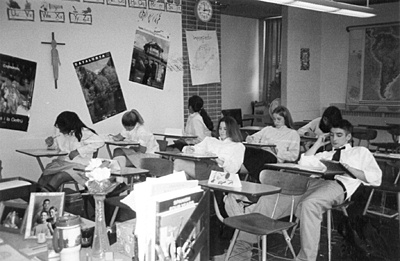 © Fox V., Whitesboro, VT