Media Hype
May 15, 2009
You're standing in line at the grocery store and you see the latest issue of Cosmo Girl magazine. You open it up and with out even realizing it you have already decided that the picture of Beyonce on the front is so beautiful. You think that you will never be as pretty as she. But in reality, you already are. That picture has been warped and photo-shopped to make her look that skinny, give her skin that perfect glow, to give her lips that perfect gloss. Our society has become very judgmental. Everyone always has to look there best to feel beautiful!

A recent issue has come up with Kirstie Alley the lady from the Jenny Craig commercials. She has apparently gained back some of her weight. Big whoop. We all gain and loose a few pounds every now and then; the only difference is ours doesn't go public on TV and magazines.

Could you imagine, the one time you have an unhealthy meal at some greasy fast-food place that unflattering pictures of you would be in magazines saying all your trips to McDonalds are "catching up to you." But in reality you're fine! Sure you had a Big Mac and a shake, its ok, don't we all? Be happy with the way you are!


Along with peoples appearances the media also attacks there beliefs. Recently Miss California USA lost the pageant due to confessing her truth when asked about gay marriage. She simply stated what she actually thought, that marriage should be between a man and a woman instead of some lie that would have won her the pageant. The media attacked her with thriving questions about this and she was very overwhelmed. I believe she deserves to win the pageant for speaking her true feeling instead of some cheesy stuff she doesn't believe.

This discrimination is affecting the youth here America too. The children are feeling the need to fit in more and more every day. And the way to do that is to inherit the "newest look". While I was camping in Yellowstone, I walk past a couple girls who appeared to be around the ages of eight and ten. All three of them were wearing excessive mascara, eyeliner and eye shadow, wearing Gucci flip flops, strapless Hollister tank tops, one was even carrying a Prada bag. They were camping, in the middle of a wildlife preservation, but would not be caught dead with out looking fabulous!

Recently I was in my Social Studies class and my teacher randomly pulled up this Youtube video to show us. It was called "Dove Evolution". It shows a young women being photographed for a billboard for a Dove soap add. The work that they did to the girl was incredible. All of the make up and hair styling, and then after they took the picture it shows all the tweaks and photo-shopping they did to it to make the lady look flawless.

Please, take a second the next time you grab a Seventeen magazine and think, what if you were that girl on the front with the fake image everyone strives for? What if you were the celebrity written about the DUI on the twelfth page? What little girl is going to see there sister reading this and decide she has to look like that too? How many people loose self confidence just because of the way the teenagers appear in these pages? Think. You are the way you are and you don't have to try to live up to this cultures "hot new image" to fit in. If our society starts to think this way, the celebrity elite will be soon to follow. Have you called Jenny yet? No, and I don't plan on it!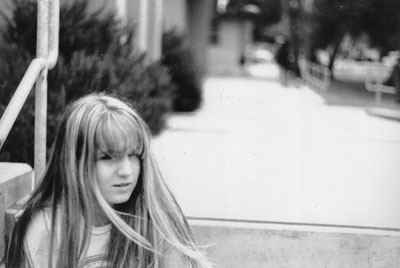 © Alyssa R., Pacific Grove, CA