Vice to Virtue
May 9, 2018
Being independent means growing to be a self-sufficient and reliant person. If dependence was necessary for my life, accomplishing my goals would be nearly impossible because I need to be flexible and have a constant, relaxed attitude. It is important to be independent for times when all else fails, and you are left with nothing but yourself. Independence represents me as an individual because of the balance and organization every single day in my life takes. From school to softball and then home to do homework, independence is much needed to be able to rely on me for good grades and everyday needs. When I get to college in a few years, my hope is to still be playing softball. If that dream comes true, I will have to balance finding a good career, playing softball, and living alone all on my own. This is a scary thought but practicing independence now will prepare me for what is yet to come.

Impatience represents the feelings I have when a day does not go as I planned. On top of a busy schedule, I try to make time for my friends and family and still take personal time for myself. When I have a bad day, often times it is easy for me to snap at someone who gets in my way and this is something I find myself working on. Being impatient is the opposite of the calm and collected attitude I need to make everyday successful and sufficiently fulfill my tasks. Patience is key to being the great student-athlete my parents and teachers raised me to be. Every day is a struggle to stay calm and do my best because I am often so exhausted that I do not want to deal with anything life throws my way. Working on my impatience is a daily task that I try to accomplish for the better of myself and everyone around me.

On November 7, I wore my letter that represented my vice and virtue. Quite often I barely realized it was there until a teacher or peer questioned me. In total, I think I was asked by maybe 15 people as to why I was wearing my letter and what it meant. Personally, I feel like it would be very difficult to wear this every day because it is very frustrating when people are constantly questioning you about it. It is also very noticeable among a big crowd because a letter on your chest sticks out to others.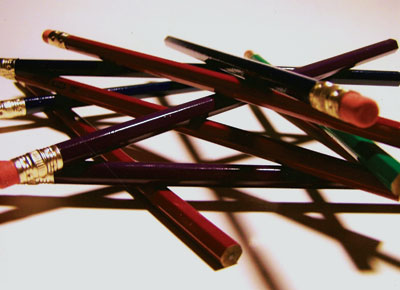 © Nicholas K., Weldon Spring, MO