Horrible Hike
November 15, 2017
Mid-water blue skies, the steaming hot sun, but where are the fluffy white clouds? The day I went hiking it seemed like a good day, but it started off hot; the minute I stepped out of the car the heat blasted onto my face like I was putting my face close to the burning, steaming, hot iron after my mom had finished unwrinkling my family's clothes.

That minute I felt the heat, I knew that I wouldn't like hiking and I never would; all I thought was the farther I go, the more I get lost. But that didn't happen; there were specific signs-go here, don't go there, hill up ahead, beware of deer ticks - that made it seem like my family were idiots. There were also maps that showed each canyon we could go to. In fact, my brother held on so tightly onto one map like it was gonna get blown away like the way my money seems to fly out of my wallet. There were also trails that were made with sand which made it difficult to not to get tiny pebbles in my shoe after every step.

Sadly, I kind of did want to get lost because the deeper I get into the shady humid forest, the more that meant I wouldn't have to go back to the hard plastic chair with teachers expecting me to write something good, in school. But, the hot sun changed my mind about getting lost halfway through the hike; my nine year old body couldn't take it. The worst things about hiking were the sun watching me take every step I take making sure that I die from its heat, disgusting deer ticks just looking for blood to suck on, and shiny green, poison ivy. I was trying to dodge every plant, that was green with three leaves- at least that's what I heard poison ivy looks like. I really wasn't in the mood to walk and enjoy nature that day; the walk seemed endless and looking at all the trees and spiders got boring.

Due to the heat of the sun, everyone -except my dad and brother of course -wanted to turn back, but my brother, Michael, told us we had to see the St. Louis Canyon , so he led the way which means, if I ever got lost it would be his fault . While walking towards the canyon, all I thought was that we were walking farther just to see bigger rocks, I don't want to see bigger rocks.

After about what seemed like hundreds of trees, spiders, and variety of rocks, I finally made it. Around me was the St. Louis Canyon; rocks layered on one another like the way fat folds when crouching down after eating a huge meal. I made it! Feeling accomplished, I stepped back to appreciate the beauty of nature; the way the vines were climbing up the canyon's rocks, and how on some folds of the rocks layed a cave, like a giant had just poked a hole in it.

As I stepped over a tiny river with some logs-that had fallen from trees-, there was a waterfall. From about two stories high, water splashed straight down onto the brown sand and I imagined that maybe the same giant had just turned on the water to take a bath in the brown sand. Then, after about a thousand photos, my family finally headed home. That was fun, I said to myself.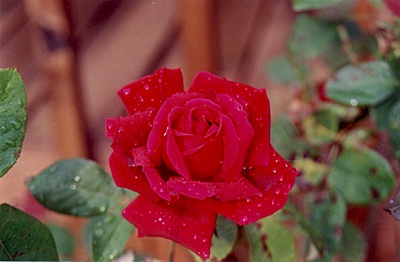 © Jami U., W. Hempstead, NY