Belief in the Family
February 23, 2017
As I was writing this paper I decided to look at old family photos as a source of inspiration. I became distracted and spent an hour and a half reliving the old days. You might not believe it but I was a cutie. Shoutout to my brother and sister for loving a sibling who was surely given one hundred percent of the attention after being brought into this world.
Do not take that intro too seriously.
February 14th 2000, I was born in Keller Hospital on West Point, New York. With my father being in the Army, I have constantly been moving between New York, Kansas, Virginia, and Texas. Due to loss of friendships and memories, nothing in my life has ever been constant. Luckily I was blessed with a brother and sister who have made the ride a whole lot easier.
Living a military lifestyle can be difficult. My father has been deployed several times, and spent years away from home. I believe that in his absence, my siblings and I have become a unit. In life, you will encounter numerous problems and obstacles, but it's during these barriers that strong relationships are built.
I believe that my two best friends were chosen for me. I was blessed with a brother and sister who shaped my life for the better.
Throughout my lifetime, my brother and sister have always been there for me. Through their own hard work and dedication they have taught me to try my hardest and dedicate myself to all that I do. I specifically remember my brother forcing me to go outside and play soccer every day since I was six years old. My sister's academic achievements have motivated me to strive for success in school.
Winning the section nine soccer title was one of the best days of my life. Immediately following the final whistle, the stadium transformed into a state of paranoia. I did not know what to do with myself. In fact, I have no recollection of what happened for the few hours afterwards. In all honesty I should have thanked my family and friends for attending. Or maybe I should have celebrated with my teammates and coach. Instead I called my brother right away. TJ, who was stationed in Georgia at the time, was even happier than myself. Surrounded by mayhem, we talked for what seemed like minutes, but likely turned into hours. "Why didn't you call me sooner," he complained. Separated by hundreds of miles, I could picture the joy on my brothers face. It was a reflection of my own excitement.
In any friendship there will be arguments or fighting somewhere down the road. For example, the other day I bribed my sister in order to let me drive her car to school. She stated, "If you ever use my car I will come home from college and attack you." Even after a death threat, I still love my sister.
I distinctly remember the day my sister reported to West Point. The professor lecturing the cadets, parents, and families stated, "you have one minute to say your goodbyes." In sixty seconds my sister would lose contact with the civilian word in a summer military training program. I attempted to hold back my tears as I hugged her goodbye.
My advice to you is spend each day like it's your last. Love your siblings and friends. Keep in touch. There will come a day when being with your friends and family is a rare occasion. Enjoy the days in which you are surrounded by those who love you most.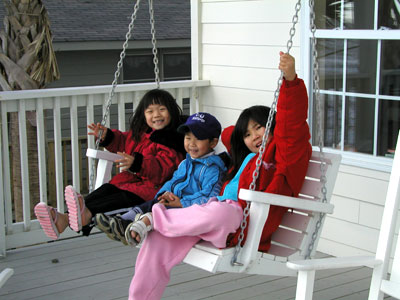 © Annie Y., Northborough, MA