I Believe in Best Friends
November 28, 2016
Best friends. They support you, they love you, they believe in you. A best friend gives as much as they take. A best friend should always be there for you. My best friend has always been Leah Darge. She is part of my family, and in most senses, my sister.

We both have different versions of how we met. It was the first day of kindergarten, and we didn't know anyone at our new school. She thinks I complimented her nail polish, but I believe that I picked up her headband. No matter what happened, it sparked a friendship that will last forever.

When Leah was five, she started gymnastics. When I was six, I joined her. From the time we met, we did everything together. Sports came easier to Leah, so she was my inspiration when I had to work hard just to try and get to the same level she was on. When she moved up a level, I didn't. She was my inspiration to keep trying and not give up on something she taught me to love. We did gymnastics together for five years before moving on.

We always spend our birthdays together. In second grade, like any normal eight year old girl, we wanted to go to the American Girl store in Chicago. Our birthdays are less than a month apart, so our moms agreed to take us. Of course, we had to have the same American Girl Doll. We saved up our own money for months, and were overjoyed to arrive in eight-year-old heaven.

As we grew older and left gymnastics and our American Girl dolls behind, Leah suggested we try theatre. For two years, we practiced, danced, and did plays together, before she left to do cheerleading. I continued one more year, and she came to every play. This showed me how no matter what we do, we will still support each other.
Leah has taught me many things that have come in handy and inspired me to go out of my comfort zone. She taught me how to put up a confident front and how to give off an "I couldn't care less" vibe, which I have a hard time naturally doing being very shy at school. She taught me that it only matters what the people you love think and to do what makes you happy.

In October, 2016, we found a tumor on my bunny, Coco. There was a fifty percent chance she had cancer. Leah was there for me as I held in the tears at the vet and comforted me, telling me Coco will be okay. Luckily, she was right. Coco didn't have cancer.

As I reflect back on all of the years I have had with Leah, I realize that even though we have completely different personalities, we still love and accept each other for who we are. No matter what, we will always be best friends.
Everyone needs a best friend. A best friend is someone you tell everything to and someone who loves you no matter what. I believe in best friends.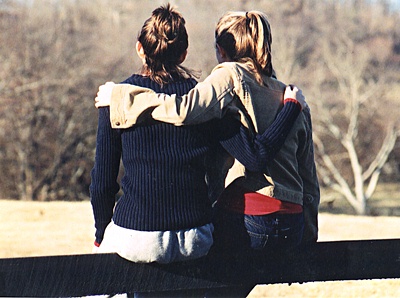 © Jaime M., Wichita Falls, TX