Why American Children are lucky yet unlucy at the same time
January 25, 2009
While in Thailand over The Winter holidays I was lucky enough to visit a hill tribe village. This was my favorite part of the trip for many reasons. there was good shopping, it was fun to get there, and there was a good view of the river from the village. But by far my favorite part was how happy the people there were.
Now these people have a harsh life in comparison to ours. The hill tribes live in completely man made huts of woven straw and bamboo. They don't have many material possessions like Ipods, cell phones, the latest styles of clothes, etc.. They, on average, only have two pairs of pants, and three shirts. Now I went home, and while doing my vast amount of laundry I counted how many shirts I have. I have 23 shirts and 7 pairs of pants. The average age for a child to get married is 12. The average age for the mother when she first gives birth is 13. And if a child is deformed, like if they have a hunch back, shriveled arm, etc. the child is abandoned and no one asks questions.
that's why Americans are lucky. We don't have to live that way. But just as we are different in basic life, we are different emotionally, mentally, and behaviorally. And that is what makes us unlucky. We live in a society of hate, greed, lust, and materialism. In our society, if someone is different, the basic instinct is to reject most of them. I have been avoided on the street by someone at pioneer I have never spoken to. Now in the average person's mind I appear different because I hang out with people who appear to be different as well. And I like these people who are different.(And these are not the completely normal people who have posted on they're my-space and across they chest things like "I'm normal in my own world" or "the voices like to speak to me," even though they have no voices.) And I think that is stupid that these nice, friendly, and caring people who are only slightly different are shunned by this cruel world we live in, because most of these people will probably end up very successful while some of those people that avoid us on the street will probably end up flat on their rear ends begging people for change and wondering how they got from popular crowd to a curb on the street. And that is because a large portion of them seem to have chosen materialism over realism. Their "quest" for the latest cell phone, or newest styles at Abercrombie and Fitch has left them defenseless in the real "real world" that they will meet in their future. What I mean is that the "real world" is what you see on TV. The real "real world" is everything that you don't see on TV, like bills, taxes, unhappy endings, etc.. And you know what? if you want to think exclusively about today and not think about what's going to happen in years to come, that's fine by me. Have fun on your curb. You are not bumming any change off me.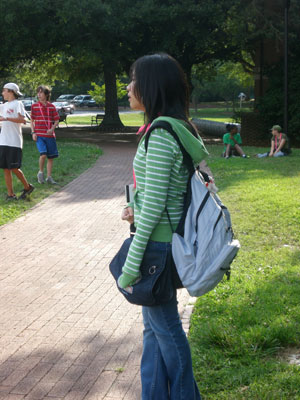 © Lucienne B., Parkland, FL