Pollution and Recycling Today
October 29, 2008
Is pollution really a big problem in today's society? Most people think it is, although some think its fine but they may live in better places than the other people. I think that a big problem in today's society is recycling and pollution.

My first idea is about recycling. Before my family and I recycled, we used to take about four trash bags out a week and then we started recycling and we were taking out one per trash week. That is why I think more families should recycle. By doing this, we are helping the environment by not filling up the landfills so much.
My second idea I had when I thought about pollution. It was the landfills and how they just build up and keep getting bigger and bigger. Some of the things we throw away can be composted which is taking objects like coffee grounds, eggshells and fruit and putting them out in the sun and then they just decompose and make rich soil. If a lot of people composted more they could get better soil and grow plants were they normally wouldn't.
My third idea would be to have the places that burn garbage to separate the objects that you can recycle like cans, plastic and paper. And the objects that you can compost like coffee grounds, eggshells and fruit from the garbage that they burn so that there wouldn't be as much smoke and it will reduce and there air would be better to breath.
My family and I went to Oregon for vacation once and we went by a factory (I can't remember what kind it was) and there where 3 smoke stacks with smoke coming out and we had to roll up the window because we were coughing because the air was filled with smoke. So make this a better world a better place recycle do not pollute.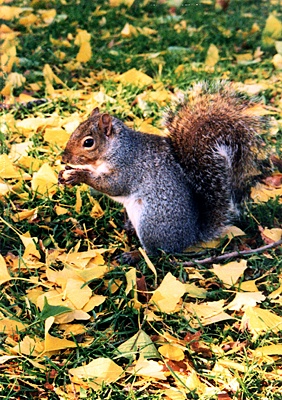 © Kaya H., Burlington, IA