The Emotional Ride- For Come Home
January 3, 2014
Doom,
Doom,
Blibs,
Blobs.
Abby entered limping,
The ex-mother had fallen with sobs.
Doom,
Kaboom!
The sound of the fallen girl vibrated,
sending echoes in the ex-mother's spine with doom.
Blibs,
Blobs.
The sound of the rain that night did those many jobs.
Sending terror that obliterated that scene,
"As the ex-mother hadn't seen…"
Abby fell as the ex-mother assumed.
Drugged like her father,
She said those words as it poisoned the page.
The time came her father showed no age.
My father is dead,
What?!
The ex-mother had said,
What?!
I thought,
And then at that moment I got caught.
Caught in "The Emotional Ride",
The ex-mother paired to a side.
Deciding to help her ex-daughter,
Who thought her ex-husband was another case of murder.
Why does she care?
I mean she's in another affair!
Even Abby's sister thinks she's being manipulated,
Her husband see's Abby as troubled nowhere near a rehab center and so complicated!
However,
Abby didn't seem so clever.
She hid and left,
None knew where she'd been and hoped it wasn't another theft.
But why had she just seemed to disappear?
If she were to be suicidal "....because the ex-mother was gone and now she was here…"it seems unclear.
A train to New York must have some evidence,
It seemed her ex-husband had some artificial intelligence.
So many events had happened,
It was more than the ex-mother had imagined.
Stop right here,
I thought danger was near.
It turned out her ex-husband's "friend",
Happened to be his identity crisis's bitter end.
With his laptop all sanitized and cleaned,
And his friend Neil all redeemed.
It was fake,
Just like the SUV following her on brake.
Wait a second,
My mind had been threatened.
Before I knew the next event,
I had my hours spent.
With what I understood,
She was gone for good.
".....his fist was heading straight for her face",
It seemed she happened to hit the rat race.
The ex-mother thought of a way,
To leave the killer's car and run away.
Not only was I captivated,
I was eagerly emancipated.
I learned adversity could stretch out so far,
Hiding the new morning star.
Just like the big dipper in the sky,
It will drop by.
In this story there was so much to be explored,
Oh and one more thing,
Here's adversity coming out of the chairman of the board.
I come in white,
Black,
Brown,
Yellow and red.
I can be one thread.
Or the reason you fall.
But I will always be the reason,
You stand up strong and ready to haul.
And each of the character's know "they will help each other through this.."
They are in a bliss.
Knowing their promise,
Shall and will never be forgotten.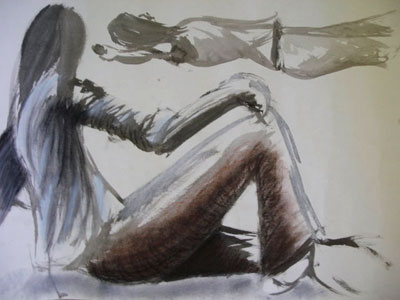 © Carollynn G., Hawthorne, NY