Pencils
September 17, 2013
A pencil.
Orange. Long. Skinny. Common. Insignificant? Of course not!
Can you imagine a life without a pencil?
They help you get your A's in English class, and enable you to draw marvelous creatures and objects.
However, there are many uses to the pencil, other than drawing or writing.
You can create music – tap to the beat, start your own one man band. You know, have a little fun and irritate your English teacher too!
You can defend yourself against savage beasts. A pencil is pointy for a reason, after all.
You can use them to scratch your back. It's like having an extra arm… but a pencil.
Don't you just hate it when you drop your valuable stuff into a tight spot and can't get it out because your fingers are too chubby? Or perhaps it's too dusty? The pencil is the perfect solution!
A pencil can't erase the mistakes and regrets in your life, but it sure can erase the markings on your essay.
Pencils are perfect for pressing those pesky 'reset' buttons on your Tamogatchi... or well, your scientific calculators too, I suppose.
You can chew on them and make nice chunky grooves that everyone will think is disgusting except for you. But really, who doesn't like saliva-coated pencils?
You could use pencils as substitute chopsticks in case you're ever stranded on a deserted island with a ship full of sushi and no chopsticks.
They cater to your personality, whether you are the ostentatious zebra, the colourful smiley faces, or the distinctive orange.
But most importantly, pencils are your best friends. They are there for you your whole life, from the time you enter kindergarten and draw your first wobbly alphabet letter to the day you die. Friends come and go, but your pencil will never walk away–literally.
So the next time you think it is insignificant, remember that a pencil is more than meets the eye.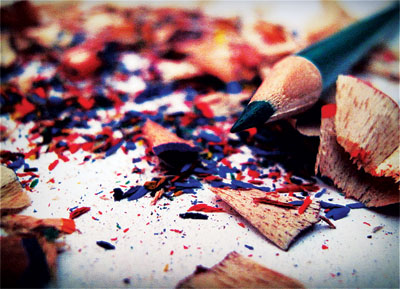 © Rosalee M., Lowell, MA