Success really demands courage
August 5, 2013
Each individual has his or her standard of success. And most of them are on the way to their terminal. But going to success really needs courage. No one knows what is going to be cost on the way to success. Maybe the cost can't be compensated, however, your goal has little possibility to come true when time runs out.

My friends recently made up a list for me, which noted all the possible opportunities that can make me famous or rich in the past 20 years. Some items, as a matter of fact, are really shocking:

When I was 7 years old, my piano teacher promised that I could be a kid star before 14 if she brought me into the best musical college. However, my parents rejected her kind suggestion as they respected my opinion then: To be an astronomer.

2 years later, I painted a picture and sent it to an art competition. I had never learnt how to paint and I just did it with my comprehension to art. And it was really amazing that I was the only one winning a prize in my city! A professor called me that I had the ability to be famous once he became my teacher. As the last time, my parents asked my opinion and they told the professor I still wanted to be devoted into astronomy when I grow up.

When I was eleven, I wrote a science fiction, writing about a journey to the Large Magellanic Cloud. It was also sent to a national writing competition. As the only child writing fiction rather than prose, which is really loved by most Chinese students, I was earned first prize. And proudly, I was the youngest one having this award! Many publishers phoned us that they would like to publish my works and then let me known by most Chinese readers, and I was planned to be a little star in Chinese literature. This time you can guess what I said: To be an astronomer!

Another 2 years passed. I was in Grade 8 when I was at the age of 14. I started to know more about social science, such as economics, finance and politics. And gradually, I was aware that to construct a more harmonic world, to be a finance investor like Warren Buffet or economics like Keynes may be more realistic while natural science may be not so effective. Consequently, I made a new resolution to my future: To be a finance investor or entrepreneur, creating more fortune for human, balancing the distribution of money, innovating more techniques and let human beings lead a better life! I still keep this decision now. And maybe it is impossible to be achieved within a single generation, however, I still insist to research about those social phenomenon and economic trend. Investment is used to benefit others rather than merely yourself! This new direction, as my friends wrote on the list, made me far away from many "more essential" chances.

That year, the music I composed was recognized by a musician. And he gave me the story of many teen stars in USA, Japan and Europe. My classmates believed that such a kind of career could brought me money and fame! But it was also apparent that "star road" may ruined my dream to be an investor. I resisted the offer. Afterwards, many new records found me and begged me to be a teenage star. Of course, I would not let anyone to destroy my goal.

Such kind of things continued in the next few years. One year later, a movie producer team asked me to star in their movie. "You would be a teen star on countless screens in China!" The staff who selected actors said, "You can be like Aaron Carter!" My classmates praised the offer and advised me to hold on the opportunity. Nevertheless, compared with my goal, it was a disaster rather than opportunity!

The most recent event was that one of my university classmates whose father is a father is an influential editor in a media from Beijing suggested me that my knowledge and special family education should be told on newspapers and magazines. I replied:"I believe that I should stay unknown to others so that I can be quiet enough to study some economics or investment knowledge."

My friends considered that I had missed many opportunities to be a success. "You've missed the chance to be Justin Bieber, to be Aaron Carter, to be…" They said while I was reading the list. I don't have the ability to be those teen stars, I just want to persist to rush towards my standard of success. But setting the standard needs the courage. Your peers may regard being a shining teen star as their ultimate goal. I love economics, and they believe I have chosen a way to be unknown. And being known itself is a failure. I must have the courage to accept the fact that my success might be a failure in others opinions.

The temptation on the way to success is even more tough to be overcome. I gradually realize that many people have no direction to the future; some people become famous when they are really young partially because they have no idea about what they want to be when they grow up. Their parents are just convinced that it is an opportunity to let the family well-known and rich. Know what you want and give up the opportunity fed to you really need your determination to refuse. Perhaps accepting the chance and be affluent and famous can give you a better result of your career. But go on the way you want to can bring you happiness, which helps you hold on voluntarily. This feeling can be obtained with money or fame.

The concern of my classmates was whether I had the time to be recognized as a celebrity, which might be more like in the entertainment career. They asserted that the one who take the job like investor, banker or other entrepreneurs will keep unknown to the public, though they had contributed to the fortune arrangement in worldwide or even influenced the way of a country's development. "But do you know who is the CEO of City Bank?" They asked, seemed to blame me. Nevertheless, we can't deny that those leaders in City Bank have done indisputable contribution to the financial system in USA, even for the world. Without those powers in industry, those stars have no possibility to show their brilliance on TV. Because without those unknown giants, their is no broadcast network, no financial support, no chance for record companies… One man's success should not be tied just to his fame. One's success should bring others fortune. It is a courage for a man to contribute to other people but keep himself little-known while the real happiness comes from contribution.

To be honest, it is difficult for one to say he or she wants to succeed in the future. Because so many temptations have been waiting for him or her. If someone goes without a clear direction and is dragged to any chance to be a little star, it is rather easy to be successful as long as he or she deems "being a star" is the most essential achievement. Otherwise, if you believe one should devote to the society, he or she has to reject many attractive chances and keep nameless for a long time. And probably the goal can't be finished in a whole life. Success really calls for your courage.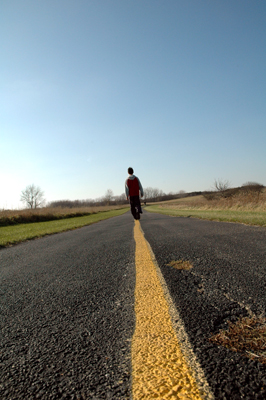 © Seita O., Palatine, IL