Insanity of Youth
May 8, 2013
Success in our world is usually measured by the same handful of things. Money, fame, family, and power rank very high among these measurements. A man must ask himself very early on which of these successes he would like, or perhaps he would like all of them. Many an idea flutters in the constant storm raging within a young man, and many an idea is swept away in the rush and angst of youth. Glorious thoughts of fame and glory are killed by the loyalty of family, the coaxing of friends, and the harsh jabbing of reality. How often would a young man simply like to leave all that has been set for him, all that defines his existence in a stony realistic world? Endlessly this urge to leave the set world spins in his head, growing with power as he becomes more and more capable of just such a feat.

Dangerous thoughts swirl in the mind, gusts of fury in the storm of the mind, threatening to sweep the man off his feet into an abyss of the dark uncertainty. It is at the brink of this abyss that he stands daily. He gazes with longing into its mystery and horror. He knows that comfort and success may lay at the bottom, or perhaps nothing but ruin and destruction await in endless mire. No one can be there to tell him, no one is there to guide the youth in this time of execution. Only his impulses guide him, his faith ruptured, and his trust all but gone. The blood pumping through his body send a warm and hearty message, the message to take no longer a time at the edge, but to push off into the void.

Never can a time be more exciting or filled with a cringing uncertainty. Never will a man's life take such a hideous and glorious turn as it does in the young man's heart. A world of reality hardly seems to be of any substance but swirls to and fro about him as he strains against the mental turmoil that is so prevalent, that is his life. Idols and gods rise and fall, grand designs are built and without incredible focus crumble into nothing and fade away with the people of the past.

Plans are to be damned in the mind of the young man. Carefully plotted roads are for old men and women. The youth throw caution into the air from a cursing fist. Smiles, sad and crazy, rage on his face. Frowns, furious and cold, sweep over his brow. Desire steps in only to confuse an already terrible rush of instability.

This is the mind of a mad, mad young man. A mind that is full of idealism, hope, and yearning love. A mind that reaches out to be held, understood, and perhaps even followed. Dreams are formed by the raging winds, sand castles heaped into mountains by the driving force. These mountains rise so high that they block the sunlight, shrouding the world in a closed shadow of focus. Despair and solitude swiftly follow, and the mountain must be brought down, scaled back, drawn down to size unless… unless the man bore his wild energy to the top, swinging from crag to crag, and leaping at last to the summit of all ideology.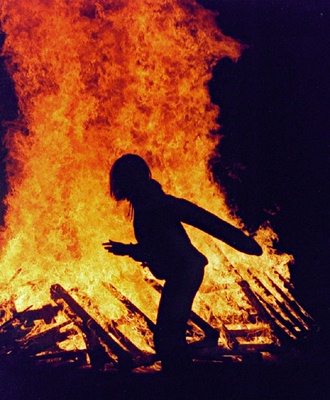 © Hali S., Robinson, IL