The Problem with Cliques
October 14, 2012
What are cliques? A sport's team? A school club? Or maybe even just a group of people that we hang out with? I believe that cliques can sometimes define who we are, or they can make us out to be something that we aren't. They create a pod of people that we are comfortable with, but they can also keep us from branching out and meeting other people we might get along with. I believe that cliques are good and bad, based on what I have witnessed throughout my life.

One of my friends was a victim of cliques. She would bounce around to all the different ones. She was a brown-haired, hazel-eyed girl who wanted to fit in with everyone. She switched groups like a bee that was constantly flitting to different flowers. In the beginning of the year, she was pretty content with herself. She got good grades, and she could be herself with her group of friends, or "clique". However, halfway through the year, my friend decided that she wanted to switch cliques and be in the more "popular" one. She began ditching her old friends to get closer with the new ones. Her friends would give her a what-do-you-think-you're-doing look whenever they saw her with her new "group". After a couple months with her new clique, my friend realized that she had to try a lot harder to be accepted by these people. Although she was funny, pretty and smart, she never felt like she was good enough to be friends with them. Her grades began slipping, she wasn't as happy, and even one of her teachers noticed a change.

Naturally, my friend figured out that these friends were not the right fit for her. She was usually upset, she couldn't be herself, and they weren't very nice people. After a while, she began to branch out. She decided it was time for a change and joined a sport's team. As soon as she started to branch out, her so-called "friends" wouldn't talk to her. My friend didn't see why it was such a problem. She decided that she didn't feel the need to try so hard to maintain friendships with people that were so high-maintenance. My friend continuously switched cliques, and most of the time, it turned into a problem.

I think high school is full of too many cliques. I believe that cliques can be restricting because they can stick us to one set of friends. Most of the time, cliques don't interact with each other. Instead of everyone getting along, we feel the need to exclude others if they aren't part of the group. Cliques can project an image of who we are that doesn't always match up with reality. Cliques aren't always bad though. They can bring out our different personalities, and we can discover things that we never knew about ourselves. Once we find our core group of friends, we will be able to stick with them and always have them for support. Therefore, I believe that cliques are good for defining who we are going to be. However, I also believe that they can hold us back from rising up to our true potential.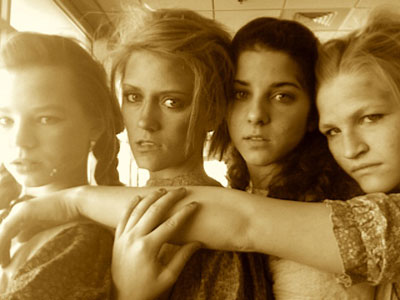 © Sarah Q., Leawood, KS