This I Believe
October 11, 2012
Taking a sip of my tea, I smiled to myself. It was the end of the week, and I was watching my favorite movie. This week had been one of those so-bad-you-want-to-pull-your-hair-out kind of weeks. I was given three tests, four quizzes, and had a project due, so I was overly stressed. Taking another sip of my Youthberry tea, I realized that I could finally relax. I believe that peace of mind is one of the most important things to have. Usually tea will calm me down and bring me some of that inner peace I need. Half-way through the movie all the stress from that week was leaving, and I started to have some serenity. Once I was relaxed I started feeling better about the possible grades I got on my assessments.

To have peace of mind a person must be calm and free of stress. Usually my stress will come from school and my friends. If I have a lot going on in one week I will start to worry about getting all my work done. I also get stressed over tests, most of the time I am worried that I won't do well and it will affect my average. I can get rid of this stress by trying to relax. When I am relaxed I can focus easier and get my work done faster. Also, seeing the grades I have gotten on previous tests usually gives me a little peace of mind. Whenever I get into an argument with a friend, it takes over my mind. I am afraid to lose a friend, so I am constantly thinking of ways to fix it. Also when two friends are in a fight and I'm stuck in the middle, I can't focus on anything else. To clear my mind I will usually talk to another friend and get advice from them. Talking to my friend is one of my favorite ways to get peace of mind because I know I can trust them and that they will help calm me down the best they can. To me, the most important part of having peace of mind, is that it makes me a happier person. Usually when there is peace in my head, there is peace around me. If there isn't, I share mine with others. When I am happy, I like to make others happy so we can talk and laugh together. It's important to me to share my inner peace with others because I know that I like having it so I figure that they must too. That also goes the other way though, if my friends are stressed and in a bad mood, it will affect my mood.

That explains why my peace of mind was going away again. Mean Girls had just ended and I was in a great mood. My worries from the week were gone, and I was looking forward to the week-end. That is until my mom came down the stairs, stressed out, reminding me that I had to go to dance rehearsal that night, a swim meet the next day, and I had to babysit all day that Sunday. That usually wouldn't be a big deal, but I had another test Monday, a whole lesson of word voyage, and a lot of homework. I took the last sip of my tea, because I knew I would need to have some peace of mind to be able to focus accomplish all of that.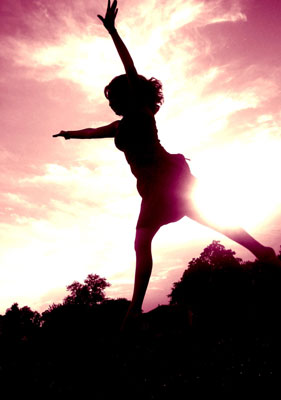 © Martha V., Morton Grove, IL