Dear Cache Sales Associates...
May 22, 2012
Dear Cache Sales Associates,

No, I don't want your help. You're overpowering "Hey!! Are you looking for any special today?!" makes me want to punch you in face. All in my face with an ear-to-ear smile acting like we've met before. Taking one look at some of the clothes I have in my hands and picking out "similar" clothes and being like "how about this?" OMG yeahhhhhh it's not the ugliest thing I've ever seen or anything. Then I'm forced to try it on and every time I go outside the dressing room to show my friend you don't have to say, "Oh my god! That looks SO good on you!" because I know it doesn't. I'm not going to do a runway walk in a dress that looks like a feathered peacock with a hint of reptile skin. I could try on a garbage bag and you would still say that same thing. Also, you aren't my friend. I'm not going to email you pictures of when I wear my new clothes. The Cache clerk soon turns creepy. I finally find something that looks "fabulous" according to you and I decided to buy it. Dreading hearing you tell everyone that I'm about to make the best purchase of my life. You make walking to the cashier an experience so embarrassing that my face looks like I just came back from a Florida trip where I forgot sunscreen. Because of this, shopping turns into something more like homework or a job; something you dread doing but you know you have to. So help me, help you and just leave me to my business when I walk in. I'll be more likely to buy and more likely to come back. If you present me with "Hey!! Are you looking for anything special today?!" again, I might never go shopping again.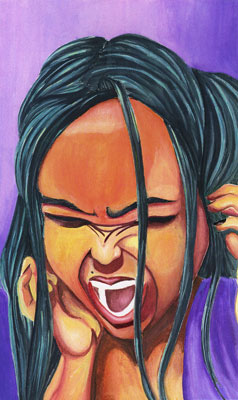 © Kriztille J., Briarwood, NY