Night and Day
April 16, 2012
Sometimes I wake up in the middle of the night, often amidst tangled heaps of sheets and thoughts, and look around. There isn't much that catches the eye, darkness is everywhere. Nor is there much to hear, not a whisper, not a sound. Just that of my pounding heart.

The fear of waking up like that, alone, in the darkness, with nothingness all around, surrounding me... It's a nightmare. So is it? Perhaps it is all just a nightmare, that will go away just as it came. One's still got to experience it though, as if it were real. The knowledge of knowing it to be unreal is of little help when it's staring you in the face, lingering around you like some forsaken dream.

Slowly, but steadily, the darkness goes away. My eyes get accustomed to it, gradually providing vision, sight, aiding my way through the dark. But I'm still in the dark, am I not? I've just gotten used to it.

Searching for the optimism in that, I come up with this: There will come a brighter time, the sun will rise and the light will shine. But until then... I'm still enveloped by the darkness, awaiting that moment when dawn breaks out. The first rays of sunlight, in my eyes, the first glimmers or assurance, symbolising the end of the gloomy darkness.

Overjoys me, this sudden swell of happiness - the thought of having faith.

It's bright, the world gives off its merry aura of perfection and bliss. I'm happy, again. I laugh with the world, and smile for myself. I've conquered the darkness.

Lost in my achievement, I stand alone in the brightness of the light. I see something looming ahead - a blurry void. Hurriedly, expectantly, I walk forth towards it. My heart hurts as I walk closer, to find that it was darkness.

What's that thing about the world spinning? I curl up within myself, after day comes night.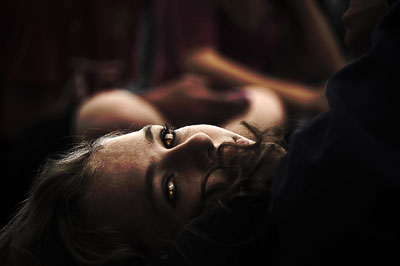 © Calvin C., Salt Lake City, UT