What is Poetry?
January 17, 2012
'Poetry' comes from the Greek word 'poiesis' (???????) and definition wise is a form of literary art where language uses aesthetics and evokes and relates the reader to the subject matter in place of the literary action or meaning.
My personal definition for poetry is a piece of writing that is true to its language and may represent any shape, form or type of beauty and decorates literature. "Always be a poet, even in prose."(Charles Baudelaire) What I mean by 'true to its language' is that with it any word can shine even if it may only be a syllable long or is or is not used in everyday life. "A poet is, before anything else, a person who is passionately in love with language." (W. H. Auden). Any poem from the short Japanese haikus to Shakespeare's never ending list of sonnets, displays beauty in these cases through simplicity, word play and detailed matters and the weaving of words to conceal and reveal emotion and thought. That's what I love about poetry and languages so much. You can basically do anything, create and destroy, love and hate for all the wrong reasons. For me even the quotes I'm referring to are poetry, like Baudelaire stated. When I see a quote or essay or even lyrics, I won't ever call or label it as poetry, but I know that they are as soon as something has been imprinted whether it's a picture, a specific word or phrase or even an emotion, it's done its job.
"Even when poetry has a meaning, as it usually has, it may be inadvisable to draw it out... Perfect understanding will sometimes almost extinguish pleasure." (A.E. Housman). I am in 97.777% agreement with this quote. In school one is told to analyze a poem. Where's the fun in that? It's basically dissecting a frog when you could instead see it hopping around happily or swimming in the pond. It's not what you want to be doing. What you should do instead is whilst observing the frog create your own thoughts and stories, enjoy the frogs joy swimming in the pond. Enjoy the sound of the poem; make your own reasons as to why this is the perfect combination of words to describe how you feel.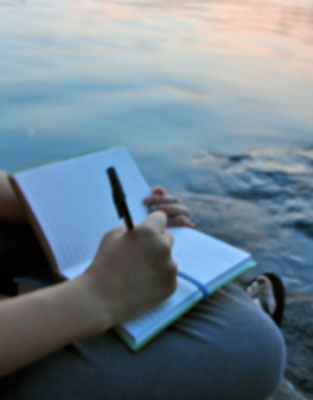 © Grace K., Port Washington, NY