My First Day of High School
January 11, 2012
I was getting ready for my first day of high school in the middle of the summer. I was thinking what I should wear and thinking what my hair and make-up should look like. I got more and more scared everyday.

I was so scared for my first day I got up two hours early. I had to do my hair five times just for it to look perfect. I was trying to make myself look older. I remember how I felt about the 6th graders when I was in 8th grade. I didn't want any of the older kids to feel like that about me. I changed my outfit about three times.

When my brother and I pulled in I thought my insides fell out of my butt. He was getting mad because I was asking so many questions. I made my best friend meet me by the door so we could walk in with each other. She had on a cute skirt and I felt really under dressed. We walked into the doors and I seen all the older kids looking at me it made me feel a little more scared.

Now looking back I feel dumb for being that scared for the first day. I love high school. I feel so old and I love it!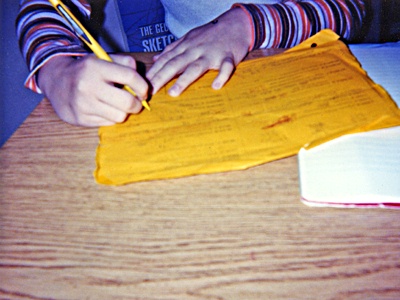 © April R., Highland Village, TX