Look At Her
December 27, 2011
Look at her; she's a little girl of 6 years of age. She's only a child. She has the one thing only children possess: innocence. She sees no bad in this world, she knows no pain except scraped knees and paper cuts. The girl has a smile on her face at all times. She's always sharing her laughter with the world. Her parents love her. They know she'll grow up to be respectful and kind to all. They have no reason to believe she won't be.

Look at her; she's a young girl now of 11 years of age. She's still a child. She's trying to hold onto her innocence. She's beginning to learn about all the wrongness in this world. She hears words that cut her deep. Her smile is still though most of the time. She's beginning to learn to fake innocent laughter. Her parents believe that there is still hope for her. They know this is only a stage and she'll become more responsible soon enough. They always had faith in her.

Look at her; she's a teenager now of 14 years of age. She may look like a child, but she has the emotions of a young adult. She has no bit of innocence left in her. She's been wronged by the world and the people in it. She's always alone. The girl is afraid to be hurt again. She trusts no one. Her smile is there when she's among the public, but once she's alone the smile fades and the tears come. She fakes the laughter still amongst her peers but once they're gone the laughter is gone. Her parents hate her. They wonder what they've done wrong. The want to know why their daughter is alone all the time, why she lies to them, why she's cuts herself, and why she makes herself puke. They yell things at her in fury. The things they say hurt her. Her parents no longer have hope for her.

Look at her; she's a mere child lying in a coffin. She was almost 15.The mourners say, "She was so young." They talk amongst themselves about her innocent she was. They saw how her beautiful her smile was. They say how her laughter filled the room. She left a note before she took the bottle of pills. "I am not a child, I am not innocent, and I needed to be heard. But you wouldn't listen. None of you would. Now look; I'm gone." The words burn as her parents reread them over and over again. They regret losing faith in her. They know they should've listened. But now it's too late.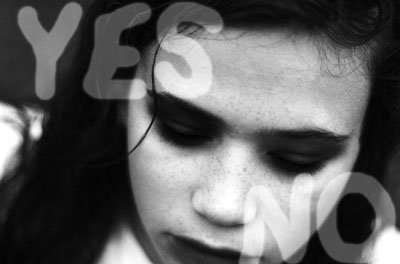 © Sandy H., Woodbridge, CT