Poem & Video, Compare & Contrast
December 12, 2011
Poems aren't scary at all, there can be songs that go with poems, songs start off as poems, but end end up with sound, & beat. The poem "When I Lost You"by Gary Soto, & the song "Imaginate" by Wisin Y Yandel, are similar & different. The poem tells the story of a girl that is all happy with her boyfriend &and writes in a variety of colors but then he leaves her & then she ends up writing in only two colors. The video tells the story of a guy that goes up to a girl to dance but she is over protected by so guys, but still they dance, and go off to a motel to do their thing, after that the over protected guys spy on them till the guy comes out and gets shot, the song is saying even though he's gone she should Imagen, & and remember the times they had together.



Along with similar story lines there are other similarities between the poem and the video. One similarly is the mood of the poem & video because they both went from a wonderful mood to a depressed mood. I know that because from writing in many colors to only two at the end & in the video they have bright & exiting colors, to dull dark colors and rain. The theme is also the same because the theme of both is how they lost someone they loved a lot. In the poem it says "When I Lost You," & in the video the guy gets killed, & the girl gets all sad, & upset because she was completely in love with him.


There are a few differences between these two pieces as well. They both use different figurative language to express their feelings in side of them selves. In the 'poem it use a lot of metaphors, foe example it says, "pink of flowers, baby blue of the sky, black of tornadoes, gold of what they were worth, & yellow of lies. But, in the video it uses hyporbally, it says that their love is eternal, & that it will never end.


In conclusion, you can see that poems aren't all that scary, & can relate to your favorite songs. It makes me realize that poems & songs can relate to each other, & also come from feelings, & events in life,& of historical moments in life.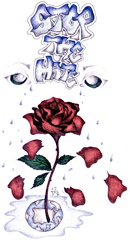 © Diana G., Phoenix, AZ