Will Somebody Help?
October 13, 2011
"Ma what happened? Where is he? When is he coming home?"

"I don't know where he went."

"Why are you so upset?"

" He's not coming back."

Suddenly it struck him what had happened; it was all gone. Everything. He had taken everything with him. Nothing remained for him and his family of six children.

My dad's father had told my grandmother he was going to take the children out to breakfast at a nearby restaurant on a Sunday morning. He followed his word, paid the bill, then took off hoping to never see any of his children ever again.

Nobody gives things to you in life, you truly must earn everything you own. Success can be achieved through desire, dedication, and determination. You don't have to necessarily be the brightest person or the best at everything, but we all control our destiny, and there is nobody there to hold your hand along the way.

My grandmother's husband took all of the money out of the bank account that his family had been living off of and fled to California, leaving my dad's family with virtually nothing. A single mom with six children to keep an eye on and feed. He did not give my grandmother and the children a dime to help support the family. My grandmother had to work 3 different jobs just to be able to pay the bills of the small house they lived in and the food they survived on. My grandmother had to earn every single penny that she owned, always working multiple jobs just trying to provide for her family. The father had left them, and he wasn't paying any money in support of the children.

My dad was thirteen years old when his father abandoned him and his family. From that moment on, he grew up with no money to spend, and he never asked his mother for anything more than what she could provide. He graduated high school, went off to the cheapest college in Massachusetts paying by student loans, and graduated with a computer sciences degree. He was able to get a job as a teller at a bank, and worked his way up through the ranks to a higher position that paid much more money. He was not given the job right out of college, he had to work very hard to earn that title.

The people who are spoiled rotten as children often times expect that all of these things that they have will be given to them when they are grown up. They don't realize that everything you own has been earned. Those who are more fortunate than others may have parents who have provided them with a great excess of things, but they usually do not realize that those items were not given to their parents, their parents had earned them. They had earned the money to buy these things or had made it themselves.

This point that my grandmother and my father have always stressed to make apparent to me, that nothing in life is given to you, and that everything you have has been earned, has really affected the way I live today. I never ask for anything from my parents that is unnecessary for me to live comfortably. They provide me with many things and great opportunities in life and I because of this I try to not disappoint them. I understand how hard they have worked to provide me with the lifestyle that I live, and I realize that nothing is more important to them than watching their children grow up and nothing makes them happier than watching us live up to the expectations and guidelines that they have set for us.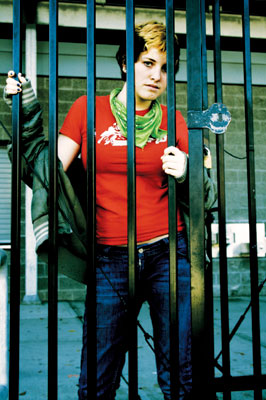 © Jessica C., Corvallis, OR