The Hiatus for my heart
May 6, 2011
We come from a very cold hot spot, where the weathers always warm and we sleep with the night owls. With the dirt kissing our feet and the rays beating down from above, we took on the world for the night. Surrounded by God's creation, we set up home for the time being. On our own for the first time we didn't know what to expect, we only had adventure in our eyes.
The past weekend my buddies and I all decided we'd go camping in the wilderness out in the boonies of Kentucky. After meeting up at Nick's house we headed out towards our hiatus. With only our gear and our friendship we headed into the forest as a group, ready to survive. After a tiring narrow fit journey through the tight brush and thorns, we made our way to the campsite. A low valley in the middle of the forest was now called home.
After composing our tent we put together a feeding pile. Since we're all teenage boys our food pile mainly consisted of chips and marshmallows. The strange thing was that no one really ate much, yet the food went fast. But we didn't let that bother us, we spent most of our day working anyways.

In need of fire wood to enhance our chances of surviving, we brought down three axes. One by one turns were taken to split logs and feed our fire. But when that wasn't enough excitement, the bright idea came about to chop down the highest tree nearby. Swinging away at the tree, it became week as our bond became strong. In one final blow, the monument fell as we watched and hollered in excitement. We laughed and joked as we sat down on the new positioned tree as we gave each other nicknames.
Once the sun said goodbye Tick, Goose, Woodpecker, The Hammer, Debby, Timber, The Ram, P.M, Ghost, The Janitor and I B.A.L.C all gathered around the campfire. As we sat with aching calluses and reminisced on the good, the bad, and the ugly. That night my heart grew a little bigger as I realized where I belong, these are my friends. I'm home.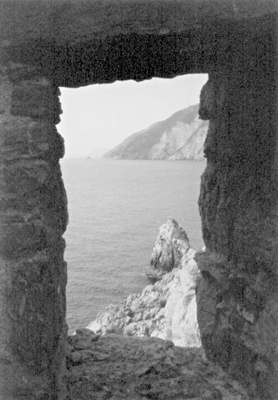 © Gabriella B., Montreal, WI