In Progess: Sculpting My Life
May 4, 2011
"If you don't negatively react, he'll cut it out," my grandma would tell me. She was referring to my brother's instigation methods, and I will the first to tell you that she- my wise, omnipotent grandma- was absolutely correct. As I huffed and puffed while my brother teased me, my grandma would give a "I-know-best" glare whispering in a confident voice, "Do as I said," so I did and that has made all the difference in my prodigal belief system. I believe that you create your own reality.
Furthermore, when your emotions flare up, you have full control to keep them balanced; however, most people lack in realizing the extent of their reign over their own mind. Because of that, they inevitably, create a negative reality for themselves causing grief, pain, and misfortune that can lead them down a wrong path or close doors to their future. My first introduction to this concept was my sagacious grandma and her sacred advice, but ironically enough, I truly grasped the idea for later analysis from my brother.
One typical day, my sister and I were fighting about God knows what, and of course, my brother just had to chip in his two cents. He called me over as I resisted obedience, for he always attempts to sprinkle his ingenious intuition all over the place acting as if he has met Buddha and now possesses all the secrets of the world there is to know. But eventually, his command turned virulent, and I gave in making sure to lug my body sluggishly in the most morose manner that I possibly could. When I approached him, I could feel his beady eyes peering straight through my act, and he reaped his rout before it even took place. With his voice vexed yet synthetically placid, he asked, "Do you like being mad?" I was stunned by the simplistic question as I stared at him like a deer caught in the headlights, but I could tell he expected an answer by his open face and anticipating nod. So as I rolled my eyes, I mumbled the obvious answer, no, to which he replied, "Then don't be." Then don't be? I thought. His words meant about as much to me as an empty book; they pestered me making a melee of my prior thoughts, so I blocked his idea noting it as detrimental and carried on with my intriguing battle against my sister in spite of his silly mumbo jumbo.
But as time ticked away, his words began to really eat at me which brought me to ask myself, "Who does he think he is telling me to not be mad? I will be whatever I want to be." And at that very moment, it hit me like the Arizonian heat in the middle of July- I will be whatever I want to be! The sensation was like waking up to presents under the tree in the midst of August. Happy as a lamb, I could have been trapped in a crowd of clowns, struck by lightning, and thrown in a pit of ravenous horses (all of which I am not fond of in the slightest bit), and still triumphantly arose with a gleaming smile plastered across my face that you would swear up and down was painted on. I laughed and trembled at all the merriment I had to look forward to, and I knew that my brother, as much as it pains me to say, was right this time. I believe that I am the sculptor of my own reality and ultimately, my own destiny. I believe in myself.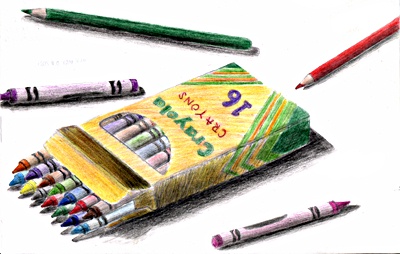 © Dana H., Wichita Falls, TX