Jellyfish
April 5, 2011
Do jellyfish ever creep you out? Like really creep you out? They creep me out. Imagine. They're a sack of body, guts, and whatever other things jellyfish have, and they just float around in the deep blue. They have no hearts, no brains, and no muscles, but they move, and they eat, and they digest food. They're natures little mysteries.
When jellyfish wash up on the beach, they look really gross. Like a wad of plastic. Sometimes people poke them, or step on them. All I can think is do they really feel it? They have no consciousness (as they have no brain) right?
Sometimes I wonder if jellyfish are the thistles of the sea. Just sitting around, waiting to hurt you. Waiting for you to run into them and be hurt. Then you jump around on one foot whilst holding the other saying "ow, ow, OW!". Well I guess you can't really jump seeing as you're swimming at this point. They are out there, purely for my annoyance (I think).
Whilst speculating this with my sister, and arguing that I don't believe that jellyfish are alive at all (despite what most scientists conclude), my younger brother was listening in. I said "They're not dead, but they're not alive either, I mean, they have no brain right?"
My brother looks up with a light in his little 10 year old eyes, and says "They're zombies."

Jellyfish are zombies.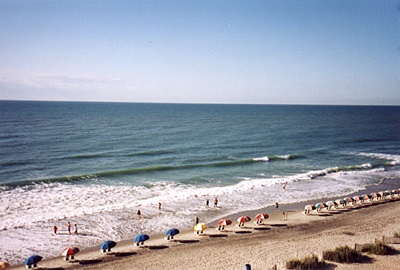 © Josh J., St. Albans, WV