My Heart Is Beeping
April 4, 2011
"My heart is beeping," is a famous quote for Invisible Children. A quote that was originated from Tony Bazilo, a man who was abducted as a child with his brother by the Lord's Resistance Army(LRA). Tony managed to escape, but his brother was not to be seen again. Invisible Children uses this quote, meant to remind people of how Tony describes his feelings when he thinks of his brother, to emotionally appeal to their audience. The Invisible Children program does everything in their power to raise money to build schools and give children in Uganda who have or have not been abducted a good education. They cannot do it all by themselves; however Invisible Children needs support financially and this economic support can be fulfilled by the government. The United States government has a moral responsibility to support the Invisible Children's program financially.

The war in Uganda has been going on for nearly twenty-five years. It began when Alice Lakwena rose. She claimed herself a leader by spirits allegedly choosing her. After her passing, Joseph Kony took over. The Acholi, which are people of Northern Uganda and Southern Sudan, fear him. Joseph Kony is the leader of the LRA currently and abducts children between the ages of five and thirteen. He believes that the minds of young childre are easily manipulated and that they are big enough to carry a gun around. They are trained to fight, kill, and to have no fear. If they show their fear around the rebels(names given to the LRA soldiers) they are killed. They are told to not only recognize, but be engulfed by the sight of blood. The children that have not been abducted have to leave their homes and sleep in larger cities to go through a night without fear. They know that if they stay home the rebels will come and abduct them. Children that are hardly lucky enough to escape are merely hunted down. Those who are caught attempting to escape are brutally beaten and murdered. The children who do escape need to find their way to safety. The only problem is that there is no place in Uganda that is positively safe. The closest thing to safety and security in Uganda are the Internally Displaced People(IDP) camps. The IDP camps consist of huts with hardly any water and food, are highly unsanitary and many children and young women are raped in these camps.

These camps can be upgraded with more money, which people of Uganda do not have. The Invisible Children program does not have all the money they need to do this. Invisible Children has raised money to build schools in Uganda to give the escaped abducted children and other children a chance to get an education. An education that they need, the education that could possibly help them escape Uganda and flee to a safer nation, such as the United States. This would not be necessary if the United States government would do what is morally correct and help the Invisible Children program financially. If the United States government were to lend the program money, the camps would become more sanitary and the people that live there will be sure that they will get three meals a day. Not only would this support the safety of the Acholi and Ugandans, but it would promote the Invisible Children program; which could help in contributing to the end of Africa's longest running conflict in history.

All children of Uganda, abducted or not, have a tragic story to tell. They are left with a horrifying childhood to remember for the rest of their lives. Their futures can tell a different story, if only the Unites States government would recognize that this is true. "Only those who can see the INVISIBLE can do the IMPOSSIBLE." Frank Gaines once said. Can we decide to see?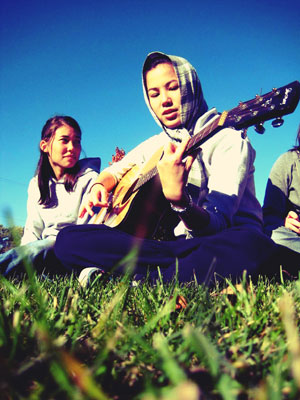 © Seita O., Palatine, IL