The Snow
July 2, 2010
In one tranquil night, the snow sprinkled down silently and began to stretch. They danced lightly with gentleness, coloring the world with clear white fantasies. It floats in peaceful air, and kissed by the mother wind. Every baby snow jumped, flied, and span with satisfaction, then disappeared into ground to a wonderland.
This was my first time to sense the soft crystals, and my first time clutched by the pain inside my heart.
Snow can be an attractive scene to extricate you from boredom, but it can be the origin for a tragedy. I was alone on the street, and it was a night at eleven o'clock. I was not afraid of the darkness, because the little angels were surrounding me with lovely smiles. "We encompass you to protect you." as they whispered in my right ear naughtily. I was the white princess of this world, and no one would come and interrupted me. Everything on me was white. The crown was made by shinning crystals, and my blonde hair was decorated with white feathers. My coat was covered with soft white glittering. The path was also paved white for me, by the cutie angles.
Although my appearance was white and innocent, my organs of my body were boiling with struggling red streams. Steaming blood comes out from my mouth, my brain is mostly dead. Since I was the first person of my family to see the snow, I screamed to extremes in my heart. I wanted to shout until- I can make no sound, no voice, no conscience, but a corpse. Shout in my heart with each sentence louder, "I don't want to be lonely. I don't want to continue to be like this. I don't want to see the snow without my family!" The snow seems to be angry too. Soon the snow becomes violent; the following snow storm is trying to murder me while sprinting on the street. The storm slapped my face, hit my back, and threw itself on my head. I encountered with dizziness, each limp gets heavier and heavier. Finally, I went home with my body wet, and dunk in the bed.
This is tragic, but rather funny. I now realize how coward was I to face the reality, but coincidentally to be fixated in the beauty of innocent.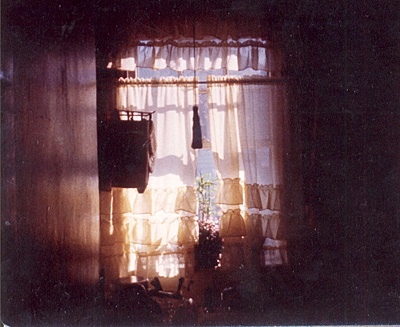 © Michael G., Glocester, RI