Impact
June 16, 2010
Mark Shwan once wrote:
"You ever look a picture of yourself, and see a stranger in the background?. It makes you wonder how many strangers have pictures of you. How many moments of other peoples life have we been in. Were we a part of someone's life when their dream came true or were we there when their dream died. Did we keep trying to get in? As if we were somehow destined to be there or did the shot take us by surprise. Just think, you could be a big part of someone else's life, and not even know it."

Do people ever realize the impact they make unless someone else points it out? People will tell me that I have done something kind or will say thank you, but they don't need to say those things for me to know what I did. You help someone find their lost pet and you know you have helped them. Or you make someone smile and give them a hug when they look upset and you know you helped. I guess you usually can tell if you made an impact, but can you tell how much that impact is. Are we supposed to be there, were we meant to do something? I don't think so. But if you are there or you do something, it does have an impact and you will forever have molded something. Because once you do something it can't be undone and if you are there for someone or you do make them smile it will change them, even if neither of you know it. Famous baseball player Jackie Robinson once said, "A life is not important except in the impact it has on other lives." So next time you find yourself about to do something don't think will this affect anyone, of course it will. Better to think how can I make a better impact?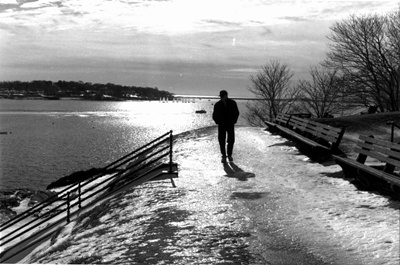 © Steve S., Marblehead, MA