America a Leader or an Intruder?
March 25, 2010
Ever since the United States of America gained its independence it has been an example and a leader for the rest of the world. Its choices, whether good or bad, continue to influence the less powerful and to leave their mark on the course of history. How is this superpower viewed now? To quote the radio journalist Terry Gross, "All I had to do was ask…"
In interviews I conducted with people in the European city in which I live, many positive and respectful opinions emerged. When asked about America, a teenager from Sierra Leone used the image of a big brother to whom you look for inspiration. For example, he observed that even if the moves you see rappers doing on MTV appear silly, the next day you still imitate them. A girl from Russia admired our patriotism and the closeness of American families. A man from India looked up to the way the American government is not afraid to invest in risky ideas that might not even be taken into consideration in his country. A young woman from the Philippines saw the USA as a land of opportunity for her children and a place that respects the immigrant. For a man from Egypt it is a country in which anyone willing to work can improve his or her circumstances in life. A girl from China described America as a country with a solid democracy and a strong educational system. The USA, for one man from Ghana, is a leader to whom the less fortunate nations can turn to in times of trouble. A man from Togo offered a concrete example of this belief, telling the story of the presidential elections in his country. When their president was re-elected, some disappointed Togolese immigrants living in the US marched in front of the White House, hoping that the American president could bring about a change. We Americans have much to offer but life in America is not always as easy or as perfect as these people suggested.
Most foreigners also realize that America is not a utopia in which the streets are paved with gold and land is given to anyone seeking work and adventure. A man from India said that many of his fellow countrymen see the USA as an intruder and an exploiter of cheap labor and resources. In the eyes of one Sierra Leonean mother, America is the military that sent her beloved son to Iraq and later South Korea. A man from South Korea considered it unfair that our nation seems to demand that no other country be in the possession of nuclear weapons when the American government has long refused to give them up. He also saw US soldiers in his country as a group of unwanted 'protectors' against the North Koreans. A Christian Egyptian man wondered if his difficulty in being granted an American visa was because of his citizenship in a largely Muslim country. Many students in my high school class (in which I am the only American) based their opinions of my country on what they see on television in shows like OC, on MTV, or in movies like "Confessions of a Shopaholic." They get the impression that every American has a pool in their back yard and spends all day shopping. (Someone asked me, "Are all Americans really as stupid as they seem in YouTube videos?") In addition, several people from completely different countries blamed the failing economies in their lands on mistakes and greed on America's part. Somebody once commented, "When America sneezes the whole world gets a cold."
We are a powerful country and we have the means to make a difference. However, to cite the idea of a woman from Benin, Americans must remember that every country has the right and obligation to solve their own problems. Our intervention must not be for reasons of purely self -interest, personal gain or maintaining our reputation as one of the leading nations of the world. Quick charity or easy remedies that last only a few years are not the solutions to foreign countries' problems. The donation of money or supplies, though seemingly effective, only can sometimes make poor countries completely dependent on another, more powerful one. This concept is summarized in one of the Chinese philosopher Lao Tzu's quotes: "Give a man a fish and you will feed him for a day. Teach him how to fish and you will feed him for a lifetime." Each culture must decide for itself the best way to fish. This is not always found by copying the United States' ways of doing things and its models of development.
The winner of the Nobel Prize for literature, Heinrich Boll, once told the story of a rich western tourist and a poor local fisherman. The tourist exclaimed to the fisherman who was relaxing in the sun, "Why don't you go out and fish again so that you could make more money, buy a motor and more boats, and then eventually purchase your own restaurant?" To this statement the fisherman replied, "And then what?" "Then," the tourist responded, "You could sit back in the sun and enjoy this glorious ocean." "But I already do that," the fisherman pointed out. "I was only interrupted by the click of your camera!" The tourist walked away feeling that he, and not the fisherman, was the one in need of pity.
If we want lasting solutions, the answer is not to export to poorer countries our McDonalds, blue jeans or values. One possible solution is for the USA to invest in other countries' education. This kind of aid can help countries train their own future doctors, lawyers, teachers and politicians who will ultimately be making decisions for their people. A great power's duty is not always to impose what it believes on others. Rather it should offer an example and share its diverse resources. Winston Churchill had it right when he said, "The price of greatness is responsibility." In the eyes of many foreigners, our great nation has many things to offer the world. We Americans have the means to make a lasting difference on a global scale. Let us live up to the positive image we have long inspired in countries of the world. Let us earn this reputation.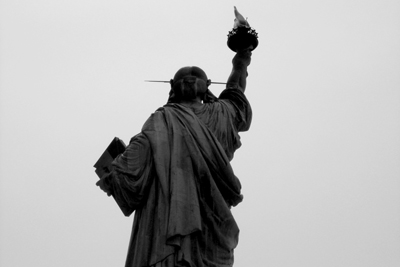 © Conor G., Harvard, MA