The perception of beauty
February 8, 2010
My friends have always told me that I'm too little, too under developed, too mundane to be pretty. As I grew up, I heard it from family and friends alike. Every day I got comments on how skinny I was, questions on if I was eating properly and had to reassure friends, family, and teachers that all was well. I have always eaten when I'm hungry. I've never stuck a toothbrush down my throat nor have I ever exercised to the point of exhaustion for the purpose of loosing weight. I've always been underweight but, as a picky child with genes such as mine, it is only to be expected.

As the years went on and my friends went on to grow taller and fuller, I stayed the same. Some of them told me I was lucky not to have to worry about dieting or loosing weight. Some teased me because at the age of 13, I was still mistaken for a third grader. My outside appearance didn't change but, what nobody knew, was that my inside appearance did.

After years of people telling me to eat more and shooting disdainful looks at my bony wrists and outlined ribs, I started to believe that being who I was wasn't good enough. I started wearing makeup because all my friends told me that mascara and lip-gloss would make me pretty. I dyed my hair because on occasion, one would tell me that I would look great with darker hair or highlights. I wore padded bras because the ladies on television all looked prettier that way.

Confusion became my main emotion when it came to body image. All my friends and teachers, parents and family members were constantly telling me to eat more, that I needed to grow, while all the women on the television were stick thin and bottle blonde. I often wondered why I wasn't considered pretty even though I looked like all the beautiful women on TV that embodied the common idea of perfection.

Over time, I began to realize that I wasn't like them. I didn't walk runways or act on the television. I didn't have my own clothing brand or ad campaign. And because of that, I wasn't supposed to be like those who did. So I ate more. I exercised less and I tried to gain the weight I had been told for years that I needed. But even living on junk food and lying around didn't change the fact that, in eighth grade, I was still a size 12 slim in children's clothing.

After trying for months to gain the weight and look like my friends, I gave up. I felt disgusting after not exercising for so long and from eating so much. It was then that I decided to be no one but myself. It didn't matter if anyone else approved of how I looked or agreed with how I took care of my body. As long as I felt good about myself and was healthy, that was all that mattered.

So, Body Image? I have none. I know that the media tells you to be stick thin or to have curves and I know that family members and friends often have their own opinions. But, in the end, all that matters is that you stay true to yourself. Look how you want to look while being healthy and ignoring everyone else. Often times, the media influences what is considered beautiful. Don't let it influence you. No matter what size you are or what color your hair is, no matter your skin tone or eye color, you are beautiful. You just need to believe it.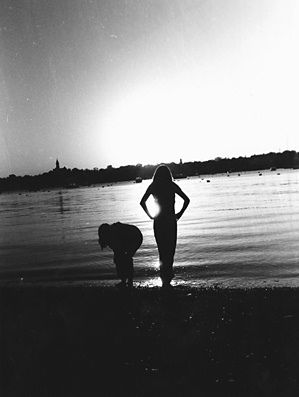 © Hadley B., Marblehead, MA