Made In China
MAG
Dust bunnies scampered across the tiles as I heaved open the door. Lingering in the air was the stale smell of clothes caught in a summer rain that hadn't dried. Peering around the aisles of the dollar store, I found what I had been searching for. Dozens of miniature American flags lay strewn across the shelves, the vibrant hue of patriotic colors reviving the dimly lit store with a surge of electricity. However, this was ephemeral because a half-peeled sticker on the underside of the flag read Made in China.

The American dream has turned into the American nightmare. America has chosen to utilize cheap, foreign labor to keep pace with the demands of capitalistic American business. Every golden opportunity America provided, every business that opened, every teardrop and every battle wound is placed into the palms of foreign workers. Years ago American proprietors shone with pride after freshly painted signs were hung in windows reading "A Proud American Business." Today, businesses are glazed over with greed and signs that declare "Yo hablo espaOol."

Betsy Ross meticulously stitched together the first symbol of American pride and freedom. Her pride-filled stitches have diminished to nothing but the sound of rickety weaving looms rushing to meet their deadline. America is held captive by its own capitalism. Americans have transformed their aspirations to absolute greed. It remains a cold fact that the Star-Spangled Banner is manufactured by foreign hands.

Foreign production of the American flag is an overlooked issue but it greatly impacts American society. Our manufacturing jobs, the symbol of freedom, are going to a communist country - China - which is morally degrading. The more that ignorance penetrates the minds of American capitalists, the more a plague of blindness will wipe out American hopes and dreams. How did it come to be that the Star-Spangled Banner now catches the gleam of the morning's first light in China?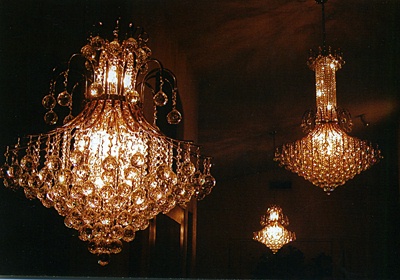 © JiaQi B., Paradise Valley, AZ