After Day
October 26, 2009
Everyone thinks when the sun goes down, the light does so accordingly. They think that as the sky turns black, the world turns black, and everyone and everything in it changes. Well that much is true, except that the light never goes away, not ever.

In theory, night begins when day ends, and day begins when light begins. But light never ends.

As the sun sinks behind the horizon, the moon rises, until it's as high as the sun before it. The moon is different than the sun, even though both bring light. Both the sun and the moon are kings of the light. Their subjects are different, but equally abundant. The subjects of the moon are agile and peculiar, yet incredibly bright in color and design.
They're like fairies, small but brilliant specs that filter fast and in many directions. No one knows where they're headed to, meanwhile they never stop moving. A trail of white buds, all aglow, swims in a train, coming from in front of the eye, and ending behind it. From nothingness they appear, and from nothingness they disappear. They look like angels, headed for eternity. Simultaneously, an identical train of red roses is flying toward it own oblivion. It has the same momentum; its future is uncertain. All that lies in front of the trail, as well as behind it, is darkness. All that matters is the present; the past and future are irrelevant.

These lights are souls, the lost spirits of the day, which can only survive when the moon reigns over them. They carry the lives of day forward, to where, and for how long, it is a mystery. They're guided by orange, green, and more red specs, only these specs are few in number, and float high above the two trains. These guiding lights take turns directing the souls below. First is the red light, next the orange, and finally the green.
One by one the buds find their way and leave the trains. They've discovered their destination, and are approaching happiness. As for the river of lights which remains, the journey is less finite. Perhaps it will never stop, and perhaps it will eventually reverse and flow in the opposite path? If that happens, the white angels will become red roses, and return to the endless train, in search of tranquility. And like a river, the current continues, and the cycle never ends.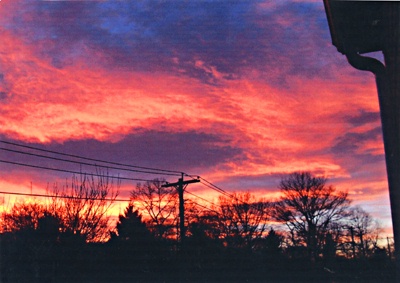 © Robbie M., Milford, CT