Fahrenheit 451 Book Review
October 12, 2009
The flames were consuming my house, but I needed to take one last thing out of my house, my favorite book; Picture Perfect by Jodi Picoult. I grabbed it and started running for the door, when a tall, dark and handsome firefighter stopped me.

"What are you doing miss?" He yelled through his mask.

"I am trying to save my life and my books' life. Now if you excuse me, I would like to get out of here before the ceiling falls," I replied.

"Put down the book before you leave," he bellowed.

"What? No, I want to take my book," I yelled back. Some of the walls were falling down, more smoke rising. What is this guy thinking? I thought. His job is to save people from fires and soon I would be dead.

"You need to let the book burn in the fire. I refuse you to take this book out with you," he yelled again. This time he was getting more uncomfortable, as more black smoke was rising.

"No!" I screamed. "I will stay here and burn in the fire if you don't let me take this book with me. You have to understand what this book really is, and why I won't let go of it."

"Fine, then lets sit, because I guarantee that you won't be able to talk me out of throwing that book in the fire," he snarled back.

"Fine," I snapped back. "Can we at least get out of the falling down house?"

We walked to the side of the house, which was not yet on fire and sat down in the corner. I was sweating and my arms and legs were blackened by the smoke.

"Alright, you may begin," he said.

"Okay, so the book is called Picture Perfect," I said.

"Uhh, yeah, I can see the title," he snarled again.

"Okay, so this is a great book because it deals with a tight relationship between two people." Then he cut me off again.

"Oh, great a love story. You might as well throw the book in the fire, because I don't go for love stories."

"Well, it's not just a love story. There is so much love involved, that somehow the love turns to cold stone, and cold abuse. A woman wakes up at a grave yard, confused, lost, and has amnesia. She then finds out that her husband is the Hollywood's biggest star, Alex Rivers. He rushed home from filming and cradled his wife, Cassie, in his arms." I sighed. What a great guy, I thought when I first read the book. What I didn't know the first time was how mad he was.

"Keep going," the firefighter gestured.

"As Alex helps Cassie become readjusted to her everyday life, fragments of memory are returned to her- the romance of how they met in Africa, the fact that she is an anthropologist, and how much Alex said he wants to be done with acting. Within these fragments, she realizes that the so called 'perfect marriage' isn't as perfect as she thought. With Alex returning from work, angry and furious as usual, he takes his anger out on Cassie, but abusing her," I said slowing. How could someone do that? What propels them to think that they can abuse someone who they love? I thought.

"Let me guess," the firefighter said. "She leaves him."

"She finds out she is pregnant and goes to a friend for help. She lives on a Native American Reservation for the nine months until the baby is born and then goes back to Alex. Alex is furious at first about the son, because he never wanted kids. He begins rehab but it fails and Cassie realizes she has no hope left in this relationship to work out, so she leaves. She ruins Alex's life by telling the press what he does to her and showed them her bruised on her stomach and back," I said.

"Okay, you just summarized the book for me, but still what's so great about it?" He questioned.

"Jodi Picoult puts so much detail and emotion into this book that the reader feels the pain of Cassie and what she is going through," I said.

"And?" He questioned, again.

"And, it relates to many people in this world today. Many people are in the same situation as Cassie and feel as if they cannot break free, so it gives reassurance to the people like her. That people actually can recover and have a great life after recognizing there is no other choice then leaving, or continuing to get hurt and potentially dying."

"Okay, I can see where you are coming from. That's a big deal and I myself would hate to be in that position, what else?" He asked.

"You're getting into this now aren't you?" I said, smirking. The fire was beginning to go out, as the others were putting the fire out.

"Just continue, blonde girl," he said, laughing.

"Ok, well, along with all the relationship and abuse drama, there is some learning that happens. The author puts some Native American culture with a young man, born and raised on a reservation. He comforts Cassie when she needs it most and is always ready with sage advice, healing techniques and warm embraces. Have I convinced you?" I said coughing.

"Actually, yes, you have. I understand why you consider it a great book. It teaches those who are in those kinds of relationships to realize something is wrong and to get out before things get worse. It shows a great love but also a great coldness of love. It teaches you to not be afraid, even when in the back of your mind, you're terrified. Thank you, you may keep your book," he said, smiling. I looked around. The fire had been extinguished and water was dripping every where. It was a miracle that the fire didn't reach us; it was as if we were sitting inside a bubble.

"Well, thank you. And I am going to let you borrow this book, so you can unravel the mysterious relationships yourself." I handed the now blackened book.

"Thank you, my name is Alex, by the way." He smiled and took off his helmet. "But I am nothing like the Alex in the book."

"Nice to meet you Alex, I am Katie. And thanks for being here, even though you almost killed me."

"Anytime," he said, smiled then walked into the sunny, bright day of Los Angeles.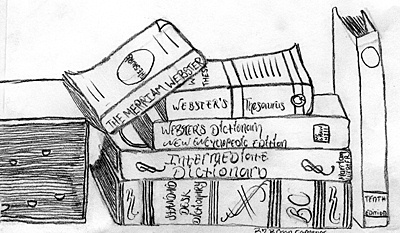 © Bryan C., Lovelock, NV