The World Without Rose Shaded Lenses
March 26, 2009
The warm sun shining down reflected off the water pooled in potholes along the dusty road. Emily, my enthusiastic spanish teacher, and I walked, our voices rising and falling with the cacophony of daily sounds emerging from the surrounding community. Roosters crowing, dogs barking, and little kids shrieking comprise the daily sounds of El Hato, Guatemaya.

I take it all in, this brightly colored, multi-fauceted culture so new to me. El Hato, meaning "The Herd", is a quaint village tucked beneath three breath-taking volcanoes; its simplicity and charm, immediately eliminated the preconceived notions I packed with me on this trip. I found myself particularly struck by local patterns of daily life and the unique family dynamics I observed.

Family life in El Hato, Guatemala greatly contrasts with what I experience back home in North Carolina. Walking along the maze of red dirt that connects the cluttered tin roofed community, I peek through little windows of village life.

A tiny boy of about seven, with soiled clothes and a dusty face, grinned up at me as he swung a massive machete to chop wood with his dad in their small dirt yard. A group of girls between the ages of four and eight clad in colorful, long, traditional mayan skirts, galloped over to me giggling and begging to have their picture taken.

"¡Un foto!¡Un foto!" They yelled excitedly as they scrambled to get in front of the magic lense. In the thick of the commotion, I failed to notice a mostrous, bulky knife one of the girls clutched in her hand by the blade. They were so comfortable casually handling a tool I find petrifying, which startled me. I would never come across these situations strolling along the streets of Fairview.

Little girls worked alongisde their mothers, elbow deep in soap suds, scrubbing clothes at the pila while other kids their age get to spend the day at school. Passing us barefoot on the well traveled road, girls as young as six carried the burden of their baby brothers and sisters on their backs with brightly patterned slings. These mature young girls exhibited as much attenton and compassion to the infants and toddlers in their care as any mother would. Witnessing such genuine tenderness causes my heart to swell with admiration. This kind of youth responsibility is something I have seen very little of in my lifetime.

The difference between the grown-up children of El Hato and I is that they work for survival, while my parents have me do a few household chores after school to help me develop a sense of responsibility. I never gave much thought to chores I grumbled through back home, deeming them mundane, whereas these boys and girls chop wood, cook, and wash clothes to keep their families alive. These inspiring youth are years ahead of me in terms of having a heightened sense of community, family, and survival.

The chance to permanently ingrain this mental snap shot of one sharp black and white contrast in cultures opened my eys and changed my world view. The children of El Hato face challenging hardships and seem forced to grow up too quickly. Despite the grown–up weight of duty resting upon their tiny shoulders, I see a fighting spirit within each of them and believe they will continue to strive for a better life. These children I have encountered on my journey this far, have eyes that shine with Guatamayan fire.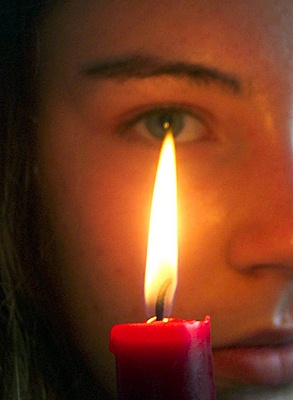 © Elise S., Clarksville, MD