I See the Sun
May 12, 2018
June of last summer I got to accomplish my dream of traveling to Paris, France. It was amazing. Ever since childhood, I have heard stories of my family's travels to France. They would always tell me about how beautiful, untouched, and historical the magical city is. I have always wanted to go to Paris, and my family's stories only made me more eager to experience this city of lights. My family made so many great memories in Paris that they will never forget, and finally I was able to do the same. Visiting Paris was my dream vacation, and for my sixteenth birthday by parents made my dream come true. I was ecstatic and could not wait to be able to travel to the infamous city I had grown up hearing all about.

I anticipated the trip for so long, and it felt like I could not wait another day to begin this journey. My family and I came up with a detailed daily itinerary of the numerous markets, museums, and metro stops we would experience. When the time actually came for us to embark our plane to Paris, we were both excited and prepared for the trip of a lifetime. I had butterflies in my stomach throughout the eight hour plane ride to Paris. I could not wait to finally land in the city of my dreams. As we were landing in Paris I thought, "This is it." I had waited so long for this trip, and I was ready to take it all in and not forget a thing.

I'll never forget my first steps into Paris. Straight from the airport, my family took a metro ride into the Le Marais, the neighborhood where we would be staying. I remember the stress of us struggling to fit all of our luggage onto the metro, while my family was also trying to stay together. We probably looked crazy, but we did not care because we were about to have the greatest trip of our lives. The cramped metro and disorientation we were experiencing made us giggle from excitement. I was just ready to get to the apartment and see the beautiful city I had dreamt about visiting for so long. The metro ride from the airport to Le Marais was probably one of the longest rides I had ever taken. I was so eager to get to the neighborhood we were staying in that I could barely hold my excitement. When we finally reached our destination, after what felt like 100 metro stops and a ten hour metro ride, I was ecstatic and could not wait to begin my journey in France.

I remember my first steps into Paris perfectly, like I just landed in the city yesterday. As we emerged from the musty, dark, underground, and busy metro station, I could hear people speaking French, and I could hear all the noises of the busy, bustling city. The bright sun's rays reflected perfectly off of the beautiful historic buildings I was approaching. The air was neither hot nor humid, and there was a perfect cool breeze that added to our excitement. I could smell the fresh French air which smelled sweet and like flowers and sugar. I saw countless outdoor cafes with the Parisiens relaxing out front people watching, and I could smell the delicious food they were eating. I passed a beautiful bakery next to the apartment my family was residing in, and I thought to myself, "I can not wait to try everything in here." The pastel colored macarons looked so moist and tasty, and the freshly baked bread looked so crunchy and tasty. Needless to say that I ate there every chance I got, often more than once a day along with my favorite gelato shop down the block. Paris felt like home, and I was enjoying my adventure.

I'll never forget the feeling that I got when I first entered into the city. I felt really welcomed and comfortable, despite being a whole ocean and thousands of miles away from home. Everyone was very nice and had perfect manners. People would step out of the way and let me and my family pass with our cumbersome, heavy suitcases, even though to them we were annoying tourists in the way of them trying to get to somewhere. I knew our trip was definitely one I would never forget. Every moment taught me how grateful I should be for my parents who gave me such a great opportunity that I would cherish forever. I made so many fantastic memories with them that I know will stick with me forever. Furthermore, the trip also shaped me into a better person. I learned to be more grateful and respectful to the loving family I have been so luckily given to from God. I anxiously await the opportunity to create many more experiences like the ones made on this vacation to my dream destination of Paris, France.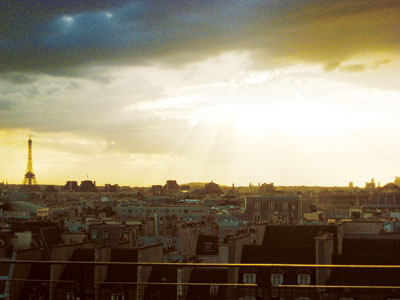 © Grace M., Montclair, NJ