The Warmth of Winter
April 2, 2018
With a gloved hand, holding onto a metal handle I stand in the metro, as I tap my feet and hum a little. Only a few days each year do I get to ride, and those few days are spent in Paris, right before Christmas. Screeching wheels of the underground train are music to my ears, reassurance that I am on my way to the Christmas market on Les Champs Elysees. A veil of snow hides the city from many eyes, and the cold chases most people away, but not me. Brisk air is welcomed when I visit. Heavy jackets and itchy scarves expected. Dirty stairs leading up to the street are littered with posters and newspapers, used tickets and cigarettes. Music, bells, and crowds of people laughing wash away the grime.

Picture this: A cold, dark tunnel that leads onto an even colder street. Except the cold fades as the tents appear. Instead of being crowded with cars, the street pulses with people bustling to and fro. The smell of hot wine is so strong it can almost be tasted. Tents scattered on the sidewalk emit a warmth that should be impossible in the midst of winter. Walking by them, I hear the vendors call out, offering cheaply made jackets and crepes with warm Nutella oozing from their sides. Adults savor their vin chaud, while the kids sip watery hot chocolate. A walk past the tents reveals Turkish vendors selling baklava and other sweet delicacies. Spanish sisters have warm croquetas at the ready, that, according to their broken French, cost three euros. A Dutch family displays their collection of dolls and houses, that look like a tempting purchase, but would never fit in a suitcase. Small sparkling lights dangle from the trees and the tops of tents. The streets are covered only in snow, and the occasional kernel of popcorn, but the usual trash that litters the cobblestones is nowhere to be found. The sweet smell of candy floss wafts through the crowd, tempting all who meander past, evoking sweet childhood memories that have all the adults reminiscing. Elderly couples huddle together close to a tent filled with toys and teddy bears, choosing one for each grandchild. Bands in the middle of the street perform Christmas carols wearing elf costumes and Santa hats, and smile at the little kids who walk past. There is no past or future. There is only the Christmas market, a bubble of pure joy, that warms everyone's hearts. Granted, there are always the executives and the consultants, with their briefcases, suits, and brisk paces, but even they are touched by the pure joy this market radiates. Grins on their faces as they pay for their crepes prove it.

At the end of the night, as I walk back to that dark, dirty tunnel, and the warmth of the market slips away, I take one last look around and smile, before slipping into the metro station.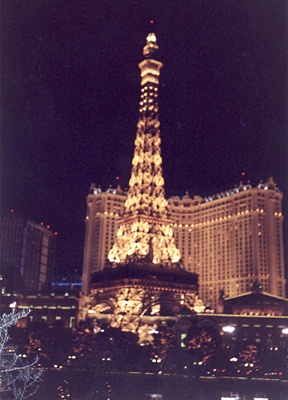 © Kevin H., Houston, TX