Pieces of Art
February 25, 2018
As I walk with my classmates, I contemplate what kind of art will be exhibited at the "Nemeth Art Center." The art center is always changing exhibits, from paintings to sculptures to photography. The unknown is driving me crazy with curiosity. We briskly walk through the streets as it is quite a chilly morning. As we enter the building the mood immediately changes from chatty and excited to quiet and serious. We spread out and go our separate ways to discover the art piece calling our name.

The piece that catches my eye is a metal sculpture. It was entitled, "Cathedral Window" by Gail Katz-James. The 3-dimensional metal framework has many different colors and designs on its back wall. At first glance, they remind me of cathedral windows, which is probably why she named it as such. The outside metal framework is as black as coal and has seven different shapes that complement the inside shapes on the back wall. The back wall is made up of circular shaped colored pieces which are strung together with string. The back wall has a sea of colors-light blue, green, red, gold, brown, navy blue and black. The colors and shapes make my mouth water, thinking of the taste and smell of sugary candies on a gingerbread house. The colors are grouped in patterns forming what looks to be seven rectangular shapes which create the back wall or mural. Some of the circles are actually inverted gears.

The metal sculpture reminds me of a cage which produces a rollercoaster of emotions as I peer through the front of the metal and look at the blast of colors from behind. I have feelings of joy, happiness, sadness and confusion. There is so much going on with this piece, that it is somewhat over stimulating to the senses. This may have been the intent of the artist to cause raw emotion at the sight of the art. This sculpture also reminds me of the stained glass windows in our church and in many other churches I have visited. When I envision these stained glass windows, I immediately feel more calm and at peace as though I am sitting in church in prayer. The many patterns and shapes also remind me of the many crafts and artwork I did as a child at preschool and elementary school.

I think all the shapes represent different door ways. Each one representing a different path in life. Many doors have opened and closed in my lifetime. From playing baseball at age 10 to even being in drama today. I have chosen each door I have opened and closed. Back in seventh grade, I opened up a new opportunity of swimming. This sport pushed me and molded me into who I am today. A new door opened up for me when, in my senior year, I tried out for the fall musical and landed a part. I discovered I am good at drama and really enjoy it! I enjoyed it so much I wanted to try out for the winter play, but the winter play and one acts take place during swim season. I want to do both, however, I can only choose one. I thought about my decision for 5 days before reaching a conclusion. I decided to try out for the winter play. Opening the door to swimming was an easy choice, however, closing it was much harder. Talking to my swim coach was one of the hardest things I have ever done because I respect him so much. Coach Fritze has been like a second father to me. Closing the door to swimming was like pushing a heavy stone in front of the doorway, sealing swimming in a tomb of memories.

You must choose what door you enter to create your life. No one is certain the outcome from any of the doors, but that is a decision you must make yourself. Similarly, mistakes are going to be made and a person can reroute their path to try another door if unsatisfied. The different color combinations show how each choice is different, just like in real life. This art reminds me that life is about choices and what you make of your life.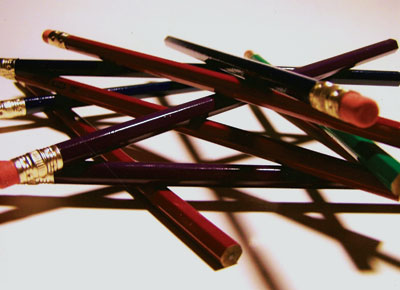 © Nicholas K., Weldon Spring, MO