Times Square
January 19, 2018
Some places leave a lasting impression on you, and Times Square is one of those places. A common saying is,"seeing is believing." It was not until I saw New York for the first time that I had a true understanding of this quote. I spent the better part of a hazy, hot and humid July day in Times Square and I can still remember it in perfect detail. The first part of New York that I came into contact with was the hectic Grand Central Station. The train station was so crowded that I thought I somehow took the wrong train and ended up at JFK International Airport. Everyone ran around in panic and confusion trying to find their way. I was worried that all of the city would be like this stuffy clustered dungeon of mayhem, but to my surprise it wasn't this way at all. From the moment I walked out of the train station and onto the lively streets of New York City, I was in awe of what I witnessed. Being from Arizona I only knew the dry, barren desert landscape so, I was amazed with the skyscrapers and lights that filled the city limits. The colossal buildings aren't like anything I had ever seen before. My eyes were unacquainted with the view, but I knew I could easily get used to it. These huge towers went on as far as the eye can see and in all directions. It was similar to being in a grocery store but instead of aisles of food, there were aisles of 18 story buildings.

Being in the heart of Times Square is where all of the excitement happens. Once I took a second to look around and take everything in, I realized what an astounding sight it was. But it was not until I paid close attention to every aspect of the city that I had a true appreciation for it.

The first thing that grabbed my attention were the sounds. Most prominent was the light drizzle of rain that made a pitter patter as it fell onto the asphalt and store front awnings. Following that was the sounds of taxi drivers honking their car horns down the streets . Mixed in was the flashing of cameras, iPhones, iPads, and any other Apple product available at the time to the thousands of tourists. After my ears rang with the sounds of Times Square, my nose started to take in the smells.

Every street was lined with vendors who sold various treats and the aroma of these delicious goods wafted through the air. One vendor was selling roasted nuts and as I walked closer to the cart, I imagined being back in this beautiful city to experience all it has to offer during the holidays. The image of the Rockefeller Christmas tree and falling snow was clear in my mind. Another street over there was a man selling hot dogs. This smell transported me to a dry summer day at a spring training game eating all sorts of all-American foods. Not only did the food stands give off smells, but the restaurants did as well. As I passed a door I got a sudden whiff of coffee grinds and all sorts of baked goods. This smell was all too familiar to me and sure enough as I looked up, the iconic green logo with what appears to be a mermaid was above me.

Walking around mesmerized by all of the sights, I thought the trip could not get any more magical until out of no where I felt a little bead of water hit the back of my hand. When I looked up and saw the heavy dark storm clouds above I knew it was a rain drop. If it had not already seemed like the setting to the next movie taking place in New York City, now it really did. Even though there was a sudden change in the weather, I did not seem to mind. Being from a place that does not receive much precipitation, I loved the light drizzle of rain. Within minutes, the streets were filled with tourists and their umbrellas, even I was one of them. Even though everything got a little more crowded and chaotic, the sudden change in weather only added to the excitement of my adventure in Times Square.

Before I went on my trip to the East Coast I was warned of how busy and overpopulated New York could be. Personally, I enjoyed the fast paced way of life. I was more focused on the brownstone town houses that lined the outer rim of Central Park rather than the amount of people crowding the street. Other than the buildings and many sights to see, there was one more thing that caught my eye. When I looked up, all I could see was a cluster of neon signs advertising everything imaginable on the side of every store. These luminescent and vibrant billboards light up the sky, painting a picture of today's pop culture.

Some may describe this concrete jungle as overcrowded and frantic, but my experience of New York was the exact opposite. I managed to see past the negative side and only focus on the positives. The colorful billboards, impressive buildings, mouth watering smells, and soft rain left a lasting impression on me of this wonderful place that is Times Square.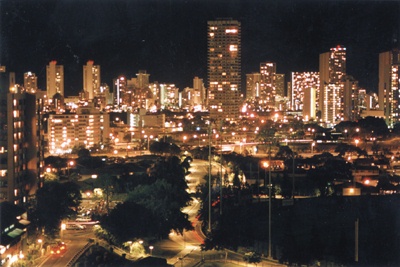 © Chris H., Honoka'a HI