A Mountain Wish
MAG
January 18, 2018
Mountains, blue skies, silk clouds and herds of conifers swishing with the breeze – Kashmir has it all, and we were here to see it. Vipul was the one sponsoring this trip, as he had gotten his dream job abroad last year; I had started pursuing a degree in Marine Biology in the Nicobar Islands. Neha, my eldest cousin, had divorced her drunk, know-it-all husband just a month ago, and we couldn't be prouder of her. This trip had been our childhood dream, and we were overwhelmed!

We reached Sonamarg in late afternoon. With countless flowers and spans of green grazed upon by wild ponies; the "Meadow of Gold" was no misnomer. We rented horses and started down the narrow dust road toward Thajiwas Glacier. The horsemen were friendly mountain boys, who told us about the weather and brown trout in the river in broken Hindi. They waited as we sledded and played in the snow like kids. To our surprise, one of them named Thimbu even invited us to spend the night with them. He offered us a cheaper rate than the nearby hotels, and despite Vipul's protests, we agreed.

Thimbu's humble house in the foothills, with Nallah Sindh gushing past it, was picturesque. Pashmina draped floors and the aroma of barbeque made it feel homey. His parents were overjoyed to have guests. Mani, his little sister, gave us tubs of warm water. After freshening, we helped Thimbu and his father, Kachum, collect firewood.

Over dinner of grilled cauliflower and barley bread, Kachum told us how they travel down to Srinagar during winter, when Sonamarg is covered in snow. We listened in awe. These mountain people lived without Internet access, room heaters, and other conveniences that we take for granted, yet they were so content. Sitting on the narrow terrace, we stared at innumerable stars studding the magnificent sky like bright denizens of an inky night. Nearby, Mani was munching the coffee bites we had given her.

Suddenly, our eyes fell on a shooting star in the north sky, and we exchanged our wishes. Thimbu blushed, saying that he wished to see the sea; Mani wished for more coffee bites. On coaxing, Neha revealed that she had imagined her ex-husband without his moustache. I wished that I would discover a new species of sea life sometime in the future.
Ultimately, workaholic, Internet-loving Vipul's answer surprised us the most. "I wished we could stay here forever!"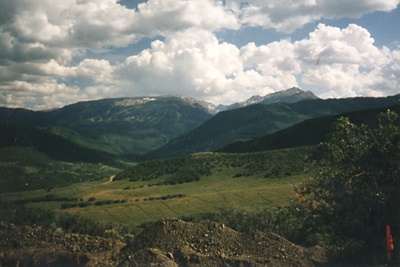 © Photo by Michael B., Denham Springs, LA