My Trip Halfway Around the World
MAG
January 9, 2018
Going to a country 8,000 miles away with 23 teenagers you've never met before can definitely be a shocking experience. I woke up on a chilly morning in northern California. All of my things were packed up in a corner – toiletries in Ziploc bags and clothes folded neatly. My duffel seemed to be bursting at the seams. As my friend and I left her house in her dad's minivan, I stared out the window overlooking the rough ocean. This is it, I thought. The last I'll see of America for a while.

We pulled up to the front of the airport and exchanged hugs and thank-yous, though it didn't provide enough closure. Going through security was stressful, but manageable, and once we finally got to the gate, I thought my feelings would begin to change, but they didn't. I was nervous. My hands were sweating and my stomach was churning, but I managed to stay calm enough. We got on the plane and sat down. I fell asleep for about 45 minutes and woke to the sound of the captain announcing that we were about to land in L.A.
Once we exited the plane, the excitement finally hit me. We briskly walked through the airport, giggling and talking about how excited we were to leave the country. We spotted a huge group of other Rustic Pathways teenagers sporting green T-shirts like ours and made our way over to them. We managed to become friends with a few girls. When it finally was time to go, we all ran toward the gate. We were so excited and couldn't wait to be in a different country.

We made stops in South Korea, Singapore, and Bangkok before reaching our final destination of Chiang Mai, Thailand. Thirty hours of traveling later, we felt like the happiest teens in the world. Although we were somewhat jetlagged and nauseous, we still couldn't believe how lucky we were. We got our money exchanged and took a van to the hotel. When we arrived there we got our room assignments, unpacked, showered, and went back downstairs to meet with our group and head out to dinner. We were all a little bit disoriented, but we kept calm and tried to meet new people. The restaurant was a little bit of a culture shock to all of us. We sat on the floor on small cushions and noshed on sticky rice with our hands while people played loud music on the stage behind us. Our first Thai meal was delicious, and definitely a success. We went back to the hotel and completely conked out.
The next morning we woke up to a loud alarm. We showered and changed into culturally appropriate clothes (pants covering the knees and shirts that concealed shoulders and stomachs). For breakfast, we ate eggs and rice and drank pineapple juice.

After breakfast, we headed off to an elephant sanctuary where we were going to take care of elephants for a little over a week. After an hour's drive, we arrived at the sanctuary, dropped off our things, and went to the common area to get settled and to eat lunch. We received our mahout (elephant trainer) suits while chowing down on pad thai and tropical fruits. We then changed and met our elephants.
Pan Sa La Win was the name of mine. She was huge, old, and beautiful. She had amazing light green eyes and patterned skin, and she was kind and thoughtful and friendly. She pointed her trunk out at me and let me pet it as she stared into my eyes. I've never felt such a strong connection to a living thing before. We learned how to bathe the elephants (getting completely soaked in the process), and we fed them sugarcane and corn. That night we ate dinner and talked about our plans for the next week.

The days went by the same as the first. We would wake up at 6 a.m., walk down to the elephants, bathe them, feed them, change, eat, etc. On the final day, we said good-bye to our elephants and to the people we met at the sanctuary and went back to the hotel we stayed in on the first night. For many, it was their last night in Thailand. But not for us.
We woke up the next morning without an alarm for the first time in days. We lounged around the hotel until it was time to say goodbye to our friends who were going home. The rest of the day was pretty calm. We hung around the hotel pool and talked. In the afternoon we went to a Thai boxing lesson and learned self defense. We ate our usual pad thai and iced tea and went back to the hotel and waited to meet the girls that were spending the next week with us. We couldn't wait to make new friends. We had dinner at the same place as we did the first night, this time eating more than we did the last time and enjoying it much more as well.

We spent the next week sightseeing. We saw temples and wood carvings and museums. We went out to eat almost every day and enjoyed every second of it. We traveled around the country, living in places from treehouses to four-star hotels. We saw a Thai boxing match in Bangkok and met one of the champions afterwards. We went to night markets and bazaars and supermalls. We swam in waterfalls and drove up a huge mountain and got stopped by a family of water buffalo. We ate sticky rice and drank butterfly pea juice while overlooking mountains and rice fields. We took naps on our many long car rides and went on shopping sprees at 7-Eleven. I've never been as happy as I was when I was in Thailand. But my favorite part of the trip by far were the memories I made.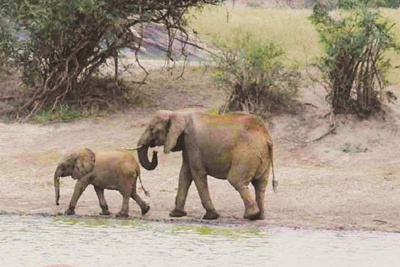 © Margaret K., Andover, MA