My Summer Adventure: ACLU Summer Advocacy Institute 2017
MAG
November 24, 2017
I had the privilege of attending the ACLU Summer Institute held in our Nation's capital this past summer. The ACLU (American Civil Liberties Union), is dedicated to fighting for the U.S. Constitution and making sure America abides by the rules our founding fathers established. On July 28, over 500 kids from across the country traveled to stay in either D.C. or Virginia to explore the struggles we have in America, namely protecting our basic human rights and appreciating that no human is illegal. I was lucky enough to stay in the historic Georgetown dormitories and get the full experience of what living on a college campus in D.C. would be like.

The most eye-opening experience I had during the week was hearing speaker Jeff Robinson talk about the racial injustice in America and how racists are formed within the first three years of life. My favorite quote of his is: "If you're going to talk about race, get comfortable with feeling uncomfortable." This quote represents so much in just one sentence. People avoid the subject of race entirely because it makes them feel uncomfortable, but if we are going to create change we need to start talking. Mr. Robinson also opened my eyes on our "heroes" of modern society. I learned that many schools across America didn't consider Dr. Martin Luther King, Jr. a hero when he was alive and very few made an effort to praise Muhammad Ali for his devotion to racial equality. I also learned that Abraham Lincoln only freed the slaves in an effort to win the war and to save the Union.

The most inspirational speaker throughout the week was the notorious whistleblower Edward Snowden, who FaceTimed with all of us from his new home in Moscow, Russia. We got to ask him questions about his political views, his decision making, and how his life is now. Mr. Snowden kept on preaching the importance of privacy and that the government doesn't have the right to access your personal information unless they have a valid and just reason. I consider Edward Snowden a patriot in the highest regard because he fought for the basic human rights upon which our great country was founded.

While I got to learn about the struggles in America, I also got to be a tourist throughout D.C. and visit museums and monuments in our capital. The museums I visited included the NAAHCM (National African American History & Culture Museum), the National American History Museum, and the NEWSeum. My favorite monument in D.C. was the Washington Monument because at one point in human history, that building was the tallest in the world and represented the height of our accomplishments – establishing a free republic. Other monuments and landmarks I went to were the Capitol Building, the Martin Luther King memorial, the U.S. Capitol Rotunda, and the Library of Congress.
In conclusion, I learned a lot about my country and how we operate – and the good and bad things we do. I met friends I still communicate with and hope to remain friends with as long as possible. The ACLU Summer Advocacy Institute was a great experience. I will be applying again next year and encourage all rising juniors and seniors to do the same.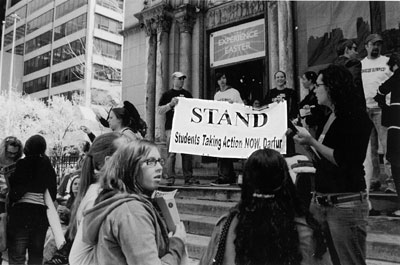 © Meaghan M., South Portland, ME