A Life Changing trip
October 12, 2017
There was no sign of peanut butter. Three blonde women in a local grocery store full of Chileans searching for the main ingredient in a peanut butter sandwich, unaware that we would never find it. Instead of processed foods like in the United States, the grocery store was filled to the brim with various organic fruits and veggies. It was my first trip to a third world country. My cousin, my mom, and I of course knew what we were getting in to, but what we did not know is that they could not even have peanut butter. We must have looked so clueless.

We visited multiple towns and all over the country, only staying in the same place for a couple days at a time. On the every other day road trip, we would pass towns with a couple of convenient stores as the main businesses and others with just tiny shacks lining the highway. One car ride consisted of enough poverty to make you feel guilty for holding a cell phone in your hand. The people there lived off bare necessities- if even that. Of course we came across a couple nice restaurants and hotels, but they were few and far between. We had a Spanish speaker traveling with us, so we had an advantage to getting around and knowing where we were. We were there to visit our friend's family so of course our first destination was his childhood home.

When we first arrived everyone was dumbfounded by the beauty. It was a tiny home built on acres and acres of land with a breathtaking view of the mountains in the background. Around their humble abode was a plethora a crops- fruits, vegetables, flowers, cotton, you name it. My cousin and I jumped out of our rental car and ran straight to the cotton fields, running through the soft bunches like we were in a movie. I remember losing my favorite ring I had for years while running around, but my anger quickly vanished when I realized how much more there was to explore. I had quickly lost all hope of finding my lucky ring after looking back through the luscious cotton for about a minute. So then it was on to the fruit. All of us picked as much as our arms could hold and headed inside to wash what we gathered and eat. We spent the majority of that afternoon eating fresh fruit over a homemade wooden table chatting in broken English about what we planned to do with the rest of our vacation. I have never met such pure and kind hearted people.

Later that night we said goodbye and headed to our next destination which was a couple of hours away. When we arrived we were given our set of keys and led down a trail by a man and his dog to our small cabin. We wanted to get as much of the local experience as possible so we were given directions to the local markets and grocery shops, where we would go in the morning. When we woke up the next day, I remember flicking through the television channels looking for something in my language, but settling on Spanish Dora teaching English. Later that morning we went to the local market and picked up some snacks and fresh bread for us and the property owners. The market was mostly made up of homeless women and men selling some sort of decoration or wooden hair pieces. We bought a couple of those too for friends and family back at home.

Through the rest of our trip these market runs became a regular everyday activity to buy bread and other local treats. Following every purchase came a "Dios te bendiga" and a heart-warming smile. Each trip to the market held unforgettable memories and sweet conversations with the locals. It was never like a normal trip to Publix, but it was always much more fun and engaging. With every day came new fun facts about the area we were in, or a wakeup call to how fortunate we were to be able to have everything that we do.

After a few more days of hiking and adventuring we boarded our plane destined to home. We talked about the highlights of our trip and practiced the few common phrases we had learned in Spanish. I wish we had not boarded the plane, and had at least a few more days in the beautiful country. We landed back in Florida and immediately missed the stunning view of the mountains and the incredible scenery. We collected our bags and found our way back to the car while we dealt with rude flight attendants and people pushing and shoving us in hallways. We missed the sincerity of the people from where we had been twelve hours ago.

It was not just the people back in the United States. It was the boring trips to the grocery store, the lack of anything natural, and simply the feelings in our heads. We missed how nice and genuine everyone was back in Chile and the feeling of wanting nothing more than what we absolutely needed. There was something about living off the essentials that was surprisingly very pleasing.

It was strange- the people who had less appreciated more, but the more privileged people had the mindset of "more, more, more". This led me to contemplate what else was different and how it affected the people who lived there. Neighbors were neighbors, they would do anything to help. The most important thing I noticed was that in Chile, people would do anything to put a smile on someone's face, whereas at home people strived to put a smile on his/her own. About a month after the trip I got a letter in the mail addressed from Chile. I opened it to find a hand-written note saying, "I searched the fields to find this, I hope this made your day." Inside? My ring I had lost in the seemingly endless cotton fields.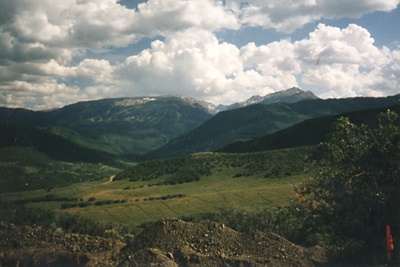 © Photo by Michael B., Denham Springs, LA