Beyond Taipei
MAG
May 13, 2017
Taiwan is an exotic dreamland. It's a small nation renowned for its dynamic food and culture, gorgeous country scenery, debatable political standing with China and, of course, its bustling capital, Taipei. Its most common language – and quite often the only one you'll hear – is standard Mandarin. That, in a brief summary, is Taiwan in the eyes of a tourist.

As a visitor every year for the past 15 years, I should know. But I don't. Instead, I spend my two weeks in Yingge, a suburb of Taipei. Hidden in its own bubble, Yingge is a 10-minute drive from the capital. Between the two, you will find cramped, unkempt commercialized roads stacked with old houses that are filthy and rickety from years of neglect – a stunning difference from Taipei's wide, perfect streets and million-dollar apartment buildings. The only similarity between the two is the smell of eggs and motor oil expelled from thousands of motorcycles and scooters.

In Yingge, life is difficult and less than picture perfect. It's a mix of rich and poor, though mostly poor. My grandfather, a wealthy, Taipei-raised man, died when my mother was barely two. Since his family was no longer bound to mine, this left my grandmother penniless, with children to raise. My grandmother worked five jobs and depended on World Vision support in order to feed my mother and her three siblings. One of her siblings had to be given up for adoption because of the family's extreme poverty. As children, my mother and her siblings would run to the local river and play all day, catching fish with their bare hands and eating chicken marrow and rice for dinner. When they got older, they would leave home at 5 a.m. and walk for hours to get to school. They were working like adults by the age of 13.

My grandmother grew old and retired, but trouble still ran in the family. My uncle gambled away the four houses he was supposed to inherit, while his sisters could do nothing to stop him because he was the only male in the family, and gender ruled everything. Now, he runs a business selling bathroom tiles and kitchen countertops in a warehouse, calling the empty space in the back his home. My eldest aunt struggled with ovarian cancer and costly medical treatments. My second aunt faces countless troubles. She works without a single day of rest in order to scrape by. Her daughter, straight out of cheap night class-fueled college, works for her instead of getting a proper job. I've only seen her son, older than me by just a year, a handful of times because he leaves for school at 5:30 a.m. and works until 11 at night. The debt between the three of them is more than three times my mom's annual salary.

My mother, the only lucky one in the family, turned down a hair modeling contract to move to the U.S. She started a stable life here in America and gave birth to me before beginning her yearly trips back home to Taiwan.
Later, she took me to Yingge, instead of the glitz and glamour of Taipei. It was there I learned of the struggles my mom endured before she left that part of her life behind. It was there I made an effort to communicate with my Hokkien-speaking grandmother despite only being able to talk in broken, American-accented Mandarin. It was there that I came to understand the culture and daily life beyond a tourist's point of view.

Instead of dining at fancy restaurants and having extravagant breakfasts, I appreciated waking up at 4:30 a.m. and strolling down the block to the breakfast store my mother always went to for freshly made omelets with pork sung and house sauce. I walked through the local market, where my mom saw that the old "Three Sisters" fruit stand had been renamed "Two Sisters." I spent summer nights having fun at markets filled with hundreds of people in the narrow Yingge streets. I became a regular at a certain street vendor who has the best French fries in the world. I endured the blazing heat as I went in and out of shops on the "ceramic road," where all the vendors sell pottery. I bought snacks and prepackaged coffee from 7-Eleven (which is practically on every corner of any town/city here).

People always looked at me and asked questions because, in a rarely visited part of Taiwan, I was an outsider. I spoke English instead of Mandarin. I wore different clothes and acted differently even though it was clear I was Taiwanese. They wondered why someone so alienated from their world was visiting. Yingge barely gets tourists. Correction. Make that never. It's filled with locals and locals only, so when someone as foreign I am comes through, people notice.

I seem like a tourist, yet I'm familiar with the streets and sights in Yingge. I'm not a citizen of Taiwan, yet I can give you a thorough tour and tell you where the best apothecary and hair salon are.

I've seen and experienced this nation far more than
a tourist could. Beyond the lights and department stores
of Taipei lies Yingge, where I'm grounded in my family's history and the daily lives of the Taiwanese people. Here, I hear Hokkien, the Taiwanese dialect, more than Mandarin. Here, I speak English only with my mother, not to the sales clerks or waiters. I don't visit for the food or the popular destinations. I come for Taiwan and what it truly is.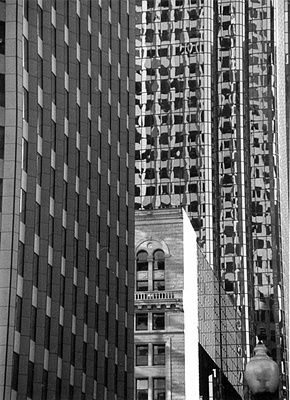 © Natalie D.,Marblehead, MA