Vancouver: Add it to Your Bucket List
MAG
May 7, 2017
A city of nature and health enthusiasts, Vancouver, Canada, is the destination that everyone should have on their travel bucket list.
Usually, when I'm on vacation, all I want to do is relax. That often entails sleeping in until 10 a.m. and stuffing my stomach to the brim with good food. In Vancouver, however, I woke up every morning at 6 a.m., taking in the scenic view of the city and crisp blue waters of Charles Bay, which surrounds the Vancouver city peninsula.
As I stepped out onto the balcony, the fresh sea breeze swept the hair away from my face. I inhaled deeply. Pure bliss rushed through my mind as I channeled inner peace. My mind clear of distractions, I couldn't help but think to myself, I could get used to this.
Vancouverites are bustling city folk who know when to stop and take a whiff of the roses. They respect Mother Nature, with many city ordinances protecting areas where flora and fauna can flourish. Stanley Park is a prime example. As I sauntered along the miles-long stone wall separating the beaches from the grassy park, I admired the beauty of humans and nature coexisting. Large cargo ships sat on the horizon, slowly transporting goods and facilitating trade. They didn't cause huge ripples in the ocean nor turn the beautiful dark blue waters into ugly oil spills.
Visiting the Capilano Suspension Bridge, one of the most famous tourist attractions in Vancouver, was very different from what I imagined. Although there were a lot of tourists at the park, it wasn't rowdy and loud. People were civilized, walking slowly across the bridge and not feeding any of the cute animals. The bridge itself is an architectural masterpiece. Stretching 140 meters across the chasm of roaring rapids, the Capilano Suspension Bridge can withstand huge loads of pressure, including mature cedar trees weighing several tons. That's incredible!
Another amazing attraction was FlyOver Canada. The location of this show is right by the ocean, which meant lots of scenic pictures of yachts and seaplanes in the bay. The show highlights the best of Canada's natural beauty through a fun roller coaster-like ride. The only downsides were the high cost of tickets and the abundance of little kids, especially loud toddlers.
Like any yoga enthusiast, hitting up all the Lululemon stores in the vicinity was an absolute must for me. This athletic apparel retailer originated in Vancouver, and the stores are bigger and better than ones in the States. I love buying new athletic clothing because it encourages me to work out more.
And after the workout comes the reward. Vancouver is food heaven – every bite, perfection. There's almost every type of cuisine, and the prices are fair. My personal favorites were The Bubble Tea Shop, Le Crocodile, and T&T Supermarket. These are must-go places. Thinking about the Thai milk tea with sago, mochi-filled egg puffs, and mango cheesecake from The Bubble Tea Shop still makes my mouth water. Le Crocodile offers authentic French dining. Everyone – from the maitre d'host to the waiters – came from France. Last but not least was a hidden gem – an Asian store called T&T Supermarket. They have an expansive deli area with traditional dim sum, fancy sushi, and petite cakes at extremely low prices. They also sell a lot of exotic fruits that my normal Asian supermarket back home doesn't have, like durian and mangosteen. I literally wanted to call up the management and beg them to move to where I live – that's how much I loved it.
Caramel apples can be found in the United States. However, they don't compared to the grandeur and selection available at the Rocky Mountain Chocolate Factory. I passed this shop on Robson Street every day. Each time, it would lure me in with the sweet aroma of chocolate and dripping caramel. My favorite apple was the half cheesecake, half English toffee. It was a perfect dessert.
Another main attraction on Robson Street was the Vancouver Art Gallery. It had very cool First Nations–inspired artwork, with lots of allusions to gods and goddesses of the natural world and seeking balance and harmony within it. I really liked the color schemes and the beautiful stories associated with the art. They reflected the importance of keeping the First Nations culture alive.
Vancouver is a multicultural city. Airport signs are written in English, French, and Chinese. I encountered many people throughout my trip chatting in different languages and dialects. The diverse food I ate tasted authentic. I thought the U.S. was a melting pot of cultures, nationalities, and religions, but in America, it seems that groups of people cluster with their own type. In Vancouver, everyone was integrated. A French and Croatian couple had respectfully taken off their shoes and were appreciating their soup in an amazing ramen shop. A French waiter patiently explained different menu items to my family, despite our short-term memory and indecisiveness. This blend of culture is incredible, and the way Vancouver-
ites foster hospitality and friendliness between locals and travelers is truly astonishing.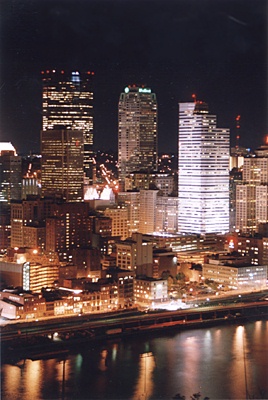 © Dena G., Pittsburgh, PA