Yellowstone
May 7, 2017
How many of you have ever been to Yellowstone National Park? If not, I am going to convince you why you should make a trip to Yellowstone National Park. I think Yellowstone is one of the best National Parks to visit because it has approximately half of all the geysers on the planet. Another reason Yellowstone is a wonderful place to visit is the diverse wildlife present in the park like wolves and bison. The last reason you should visit Yellowstone National Park is a wide variety of activities for you to do during your visit like hiking and exploring the various lakes and waterfalls. I am recommending that Yellowstone National Park be your next vacation because it has a lot of geysers, a diverse wildlife and a wide variety of activities to do while in the park.

We saw multiple geysers, hot springs and thermal features during our visit. We went to go see Grand Prismatic Spring, which is a very large hot spring that has mineral and bacteria growth that forms different colors in the pool. Most people that see Grand Prismatic Spring stay on the boardwalk around it. However, we climbed 500 feet to the top of the hill to see a better view of Grand Prismatic Spring. Another day, we watched Minuteman Geyser erupt in the Shoshone Geyser Basin. The Minuteman Geyser would erupt every 1-3 minutes. We spent the night at Old Faithful Inn where we saw Old Faithful Geyser. We visited Boy Scout Hole which was a waterfall that had a pool below that was fed by a hot spring. The water going over the falls was glacier run off and it was no warmer than 50 degrees while the pool under the waterfall is bathtub warm or warmer. You have to hike around 12 miles to get to Boy Scout Hole. Another thermal feature we visited was the mud pots. Mud pots are pools of boiling mud. Yellowstone National Parks not only has great geysers, hot springs and thermal features but also has diverse wildlife.

While I was visiting Yellowstone National Park, I saw wolves, a grizzly bear, elk and bison. One evening after sunset, we heard the wolves howling. Early the next morning, we went to Lamar Valley to look for wolves. We were able to see 6 or 7 wolves come up from the valley, cross the road and we watched them play for a couple of hours. There were two opposing wolf packs that we were watching: Lamar Valley Pack and Druids Pack. After trying for 10 days to see a grizzly bear, we were finally able to see one the last morning. The grizzly bear was feeding in a field and was in the area with some elk. The elk were being very cautious due to the bear being in the area. There was a construction zone where they had it narrowed done to one lane. There was a lady holding sign who was directing traffic. In the field next to the road, there was a herd of bison and because of them being in rut, there were two male bison fighting. One chased the other bison towards the road and straight toward the lady holding the sign. The lady started to freak out, threw done the sign and ran for the car. The bison turned the other way before they reached the lady. We really enjoyed seeing the animals but another part of our visit to Yellowstone was backcountry hiking.

During our visit to Yellowstone, my dad and I spent six of the day's backcountry hiking. We hiked in the Belcher River Valley and ended up at Old Faithful. My dad and I slept in hammocks not a traditional camping tent. We saw geysers, waterfalls, and lakes during our hike. During our six-day hike through Yellowstone National Park, we camped next to huge waterfalls and lakes with geysers going off. The night we camped next to two waterfalls that were right after each other we had to hang both hammocks from the same trees due to lack of places to hang. We fished for trout during our six-day hike. We would start most days with frost on our hammocks and ended the day hiking in shorts and t-shirts. We had to ford many waist deep fast moving rivers. Since we were in bear country, we had to hang our food between two trees every night. One night we spent the night at Shoshone Lake where we could hear geysers going off all night. This hiking experience allowed us to see things that most people do not see while visiting Yellowstone National Park.

In the United States, there are fifty-nine National Parks that you can visit. However, I believe Yellowstone National Park is one of the best to visit because of the amount of geysers, the diverse wildlife and a wide variety of activities to do while visiting the park. Yellowstone National Park has 2,219,789 acres in the park that is spread across three states. All of these are reasons why you should plan your next vacation visiting Yellowstone National Park.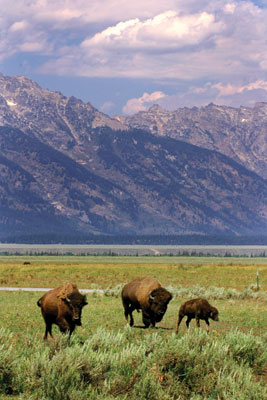 © Matt S., Glastonbury, CT